Is Chimney Liner Insulation Required? Chimney Insulation Information
July 19, 2023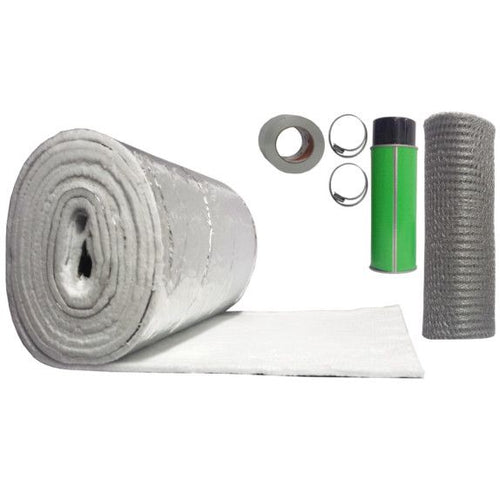 Do I need chimney liner insulation?
This is a common question you might be asking yourself when you are getting ready to purchase a stainless steel chimney liner. It is always a good idea to insulate a stainless steel chimney liner. The insulation will enable the flue to heat up more quickly and to a higher temperature. This helps reduce the risk of having an inadequate draft. In addition, while the flue gasses stay hot, less creosote will form and less fuel will be wasted.
Types of Chimney Insulation
There are two main types of chimney liner insulation. The most user-friendly chimney liner insulation is the insulation blanket. The blanket is made of a high density insulation material know as alkaline earth silicate. The blanket will get wrapped around the chimney liner the entire length. This will add to the diameter of the chimney liner, so this route is not always practical. Do not use standard fiberglass insulation. Fiberglass insulation is not rated for very high temperatures.
If you have a tight flue and are unable to use the blanket insulation, the vermiculite chimney insulation mix is your next option. The vermiculite chimney liner insulation is made of vermiculite and Portland cement. Once the vermiculite insulation is mixed, the insulation is poured around the stainless steel chimney liner. The vermiculite insulation will harden after a week and will provide a zero clearance, U.L. listed insulation.
Installing a Chimney Liner with Insulation Blanket
If you are interested in purchasing a stainless steel chimney liner, chimney liner insulation will make a good addition to your investment. You can watch how to install a chimney liner with insulation here!
DIY Center
(AKA 'The Rockford Files')
From video tutorials to product walkthroughs, we have a variety of DIY resources just for you! Click the button below to view our entire library.
Need Help?
We are here to answer all of your questions
OR

Our 316Ti flexible chimney liner and chimney liner components have passed the rigorous testing at the Underwriters Laboratories with best in class status and are UL Listed. So if you are looking for UL listed chimney liner sold directly to homeowners, then look no further than Rockford Chimney