Direct Vent Gas Stove - Napoleon GDS28 Haliburton
Direct Vent Gas Stove - Napoleon GDS28 Haliburton
Direct Vent Gas Stove - Napoleon GDS28 Haliburton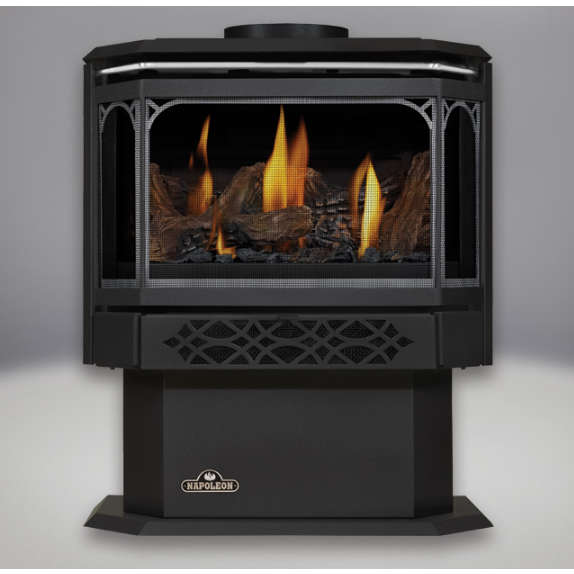 Direct Vent Gas Stove - Napoleon GDS28 Haliburton
Product Details:
Up to 30,000 BTUs in Natural Gas or Propane
Good things do come in small packages! If you have limited space but still desire the beauty and convenience of a gas stove… the GDS28 is the answer! Offering a variable heat range up to as much as 30,000 BTUs, this stove may be compact in stature, but not in power!
Features
Exclusive Features
B-Vent Adapter Kits allow installation into existing chimneys
Product Features
30,000 BTUs in natural gas, or propane
No electricity is required to light or operate – ensures reliable use even during power failures
Advanced burner system produces the most realistic Yellow Dancing Flame® in the industry
50% flame/heat adjustment for maximum comfort and efficiency
Compact, easily accessible and user-friendly controls
Equipped with 100% SAFE GUARD™ gas control system for your peace of mind
Heat radiating, high temperature ceramic bay glass door available in 24 Karat gold plated or painted metallic black finishes (ordered separately)
Ease of operation is added with an optional, convenient wall thermostat or an on/off auto temperature remote control
Built-in blower extracts maximum heat from the extra large heat exchanger.
Safety Barrier comes standard with door
President's Limited Lifetime Warranty
GDS28 Specifications & Manual
Specifications: GDS28 Direct Vent Gas Stove
Fuel
Natural Gas or Propane
BTU Input
30,000
Efficiencies (Steady State)
85%
Efficiencies (AFUE)
65%
Glass Type
Ceramic
Blower Kit
Included
Mobile Home Approved
Yes
Additional Information

Direct vent model requires no chimney, it vents conveniently through a wall or roof and uses outside combustion air
Approved for bathroom (direct vent only) bedroom, bed-sitting room and basement installations
Suitable for mobile home installation
B-vent adapter kit conveniently modifies the direct vent stove into a conventional B-vent unit
Installs safely on any floor, even carpet and vents up to 20 ft. horizontally and up to 40 ft. vertically


Tested to ANSI Z21.88 and CSA 2.33 for vented gas fireplace heaters
Napoleon GDS28 Gas Stove Product Manual
UNIT INCLUDES: HEAT CIRCULATING BLOWER AND THERMOSTAT, TRIPLE FLAME BURNER, MILLIVOLT REMOTE CONTROL NATURAL GAS VALVE WITH BUILT IN ADJUSTABLE FLAME/HEAT CONTROL, STAINLESS STEEL FLEX CONNECTOR, EXCLUSIVE PHAZER® LOG SET AND CHARCOAL AND GLOWING EMBERS, PIEZO IGNITOR, METALLIC BLACK ACCENT BAR, ORNAMENTAL INSET AND TRIVET, AND AN ON/OFF SWITCH. BATHROOM/BEDROOM/BEDSITTING ROOM/MOBILE HOME APPROVED. 30,000 BTUS.
NOTE: All units are natural gas. If propane is required - please order conversion kit.
Frequently Bought Together:
DIY Center
(AKA 'The Rockford Files')
From video tutorials to product walkthroughs, we have a variety of DIY resources just for you! Click the button below to view our entire library.
Need Help?
We are here to answer all of your questions
OR

Our 316Ti flexible chimney liner and chimney liner components have passed the rigorous testing at the Underwriters Laboratories with best in class status and are UL Listed. So if you are looking for UL listed chimney liner sold directly to homeowners, then look no further than Rockford Chimney