All About Clay Chimney Pots
July 19, 2023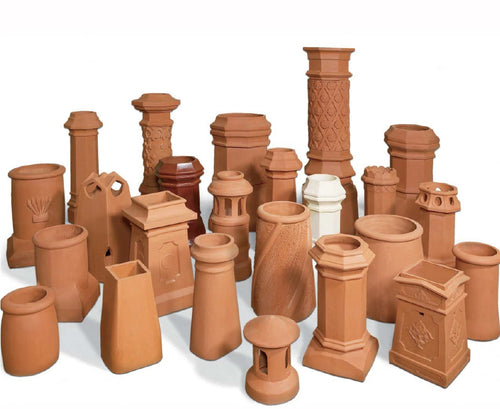 Clay chimney pots can be as plain or decorative as you wish, and any shape imaginable. Chimney pots are still hand made using clay, allowing for intricate designs. Once these pots are completed, they must dry for several days before being fired in a kiln, where they reach temperatures of 2,000 degrees.
Choosing Your Clay Chimney Pot
When selecting a Chimney Clay Pot, "looks are not everything". Clay pots not only add architectural beauty, but serve as chimney extensions, that will increase the height of your chimney that may help boost your draft. It is important when choosing a clay chimney pot, that the top and base openings fit the flue it will be covering, otherwise you may promote draft issues. Our chimney pot sizing guidelines can help you choose the correct size. Generally, when houses have draft problems, the addition of extra height can resolve those matters. So adding a chimney pot is a great way to decorate the home and increase your chimney draft.
You have a choice of the natural Terra Cotta look of these clay pots, or you may choose any one of the 6 standard glazes from black, buff, dark red, limestone, sandstone, or salt glaze (brown). We can even do custom glazes, finishes and textures to meet your needs. When adding more than one chimney pot, mixing and matching can actually add architectural interest to your home.
Clay Chimney Pot Caps
As with any chimney flue, you should consider a cover to prevent rain, animals and debris from entering. There are distinctive styles of Chimney Pot Caps that will fit your architecture.
Installing a Clay Chimney Pot
Clay Pots can range from 20 lbs, up to 350 lbs, so it is critical that the chimney is structurally sound, and if installing on a wood chase chimney, special attention needs to be taken to prevent water leakage around the base of the pot, and the additional weight may mean reinforcing the framework.
DIY Center
(AKA 'The Rockford Files')
From video tutorials to product walkthroughs, we have a variety of DIY resources just for you! Click the button below to view our entire library.
Need Help?
We are here to answer all of your questions
OR

Our 316Ti flexible chimney liner and chimney liner components have passed the rigorous testing at the Underwriters Laboratories with best in class status and are UL Listed. So if you are looking for UL listed chimney liner sold directly to homeowners, then look no further than Rockford Chimney