Stainless Steel Chase Covers
Product Images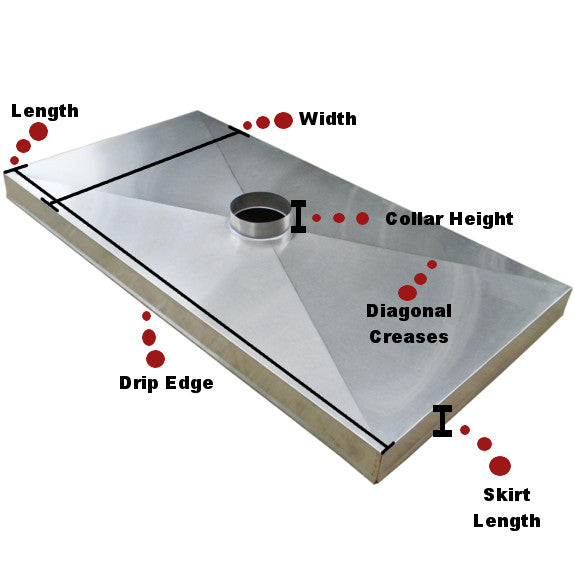 Stainless Steel Chase Covers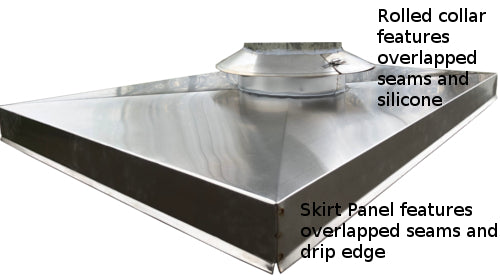 Stainless Steel Chase Covers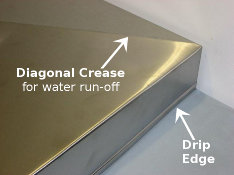 Stainless Steel Chase Covers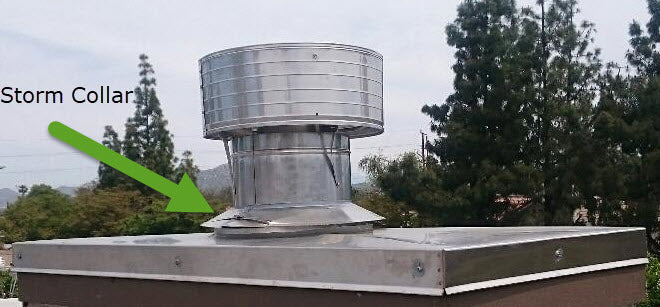 Stainless Steel Chase Covers
Description:
Stainless Steel Chase Covers are made to order for the perfect fit & reasonable price. Enter your measurements below or...
Product Details:
All of our Stainless Steel Chase Covers are made custom to your specifications and have a Lifetime Warranty against rust, corrosion and manufacturers defects. Often used to cover chimney chase surrounds or brick masonry crowns, it fits over the top of the chimney like a shoe box cover fits the top of a shoe box. Install a Stainless Steel Chase Cover as a lifetime fix that you will not need to worry about. Add on features such as diagonal creases and drip edge at no additional cost! We have created an easy-to-use measuring form, or you can call us with any questions and order processing assistance.
Chase covers are used at the top of chimneys to keep out rain, snow, critters, and everything else. The Chase Cover covers the entire top of your chimney. Used frequently to cover chimney chase surrounds, it fits over the top of the chimney like a shoe box cover fits the top of a shoe box. Watch our Chase Cover Installation video to see how to install and our Chase Cover Measuring Guide Video to learn how to measure for your new cover. Print our Chase Cover Measuring Forms (PDF) for taking notes while on the roof! Measuring is the most important part of ordering a custom cover as they are made custom and are non-returnable. **Fabrication time for 24g (standard) and 22g is approximately 1-2 weeks** and 20 gauge (special order) is 2-4 weeks.
We can make any chase cover you can imagine up to 120" x 60" for 22 & 24 gauge and 120" x 48" for 20 gauge. (Larger sizes will be fabricated with an overlapping splice - please call for a quote.)
It is not recommended you install a galvanized chase cover. Galvanized covers rust fairly quickly and will need to be replaced. Think twice before using galvanized as these repairs are only temporary. Rockford's stainless steel chase covers with welded seams will last a lifetime.
Rockford Chimney Supply recommends and manufactures custom chase covers made of 304 stainless steel or copper, and they come with a lifetime warranty. We custom make every chase cover you can imagine, from 16" x 16" all the way up to 100" x 100". All seams are welded. The standard skirting / flashing is 3" with a drip edge. Our standard metal thickness is 24 gauge. If you would like a thicker gauge, you may select 22 gauge at a 10% additional cost or 20 gauge at a 15% additional cost. Any size, any shape, copper or stainless steel, multiple vents, the list goes on, it's all up to you. Buy your chimney cover online from Rockford Chimney Supply. Chimney covers, Flue Covers, Steel chimney tops, and Stainless steel flue caps are our specialty.
Measuring For Your Custom Chimney Chase Cover
Also see our video Chimney Chase Cover Measuring Guide.
A chase cover fits over the top outside edge of your chase or brick chimney, similar to a shoe box top. It can have no holes one hole or multiple holes, and is custom fitted to your particular chimney or chase. Here's how to measure for a great fit:
Length and Width: When measuring for a custom fitted chase cover, it is important that all measurements are accurate to the nearest 1/8". Also, be sure to measure all four sides. Just because one side appears to be the same length as the other does not mean it is! Mortar joints in between the bricks may be slightly different sizes, causing uneven side lengths. Measure both long sides and use the longest measurement for the length. Then measure both short sides and use the longest measurement for the width. 1/4" should be added to both length and width to provide the necessary tolerance for fabricating your chase cover.
Hole Measurements: If you need a hole or holes for your flue pipe to come through the chase cover, you should measure the round pipe diameter and add 1/2". (For oval or square/rectangle liners, add 1/2" to each dimension.) This extra allowance is important. If the hole is too small, your pipe will not fit through the chase cover. The gap between the pipe and hole can covered with an optional storm collar (for rigid pipe), or sealed with a sealer (for clay tile).
Be sure to include the dimensions to the edge of each hole from all four sides of the chase cover, so that the hole can be placed correctly. If you want the hole to be centered, then no additional dimensions are needed.
Collar Height: The standard collar is 2" to 3". The collar is rolled out with an overlap, spot welded, and siliconed for extra protection. For a square or rectangle hole that will have a clay tile flue liner protruding from it, you may want to make the collar the same height as the clay tile in order to install a single flue chimney cap.
Skirt Length: The skirt length should be long enough to cover any exposed wood and allow fasteners to go through the skirt and into the structure behind it for security. Standard skirt lengths are around 3".
Drip Edge and Diagonal Creases: Two important, no charge options are the top diagonal creases and the 1/2" drip edge, added to the bottom of the skirt. The creases prevent water and snow from accumulating and the drip edges keep the water from falling directly onto your siding or brick. Only the length, width and number of holes determine the price of the cover.
Storm Collar: Use the chart below to select your storm collar size.
Storm Collar Size Chart
3"
fits 2 7/8" to 3 1/4"
4"
fits 3 7/8" to 4 3/8"
5"
fits 4 7/8" to 5 1/4"
6"
fits 5 1/2" to 6 1/4"
7"
fits 6 1/2" to 7 1/4"
8"
fits 7 1/2" to 8 1/4"
9"
fits 8 1/2" to 9 1/4"
10"
fits 9 1/2" to 10 1/4"
11"
fits 10 1/2" to 11 1/4"
12"
fits 11 1/4" to 12 1/4"
13"
fits 12 1/2" to 13 1/4"
14"
fits 13 1/2" to 14 1/4"
15"
fits 14 1/4" to 15 1/4"
16"
fits 15 1/4" to 16 1/4"
We hope these tips have been helpful. If you still have questions, please contact us and we will be glad to answer them.
Frequently Bought Together:
DIY Center
(AKA 'The Rockford Files')
From video tutorials to product walkthroughs, we have a variety of DIY resources just for you! Click the button below to view our entire library.
Need Help?
We are here to answer all of your questions
OR

Our 316Ti flexible chimney liner and chimney liner components have passed the rigorous testing at the Underwriters Laboratories with best in class status and are UL Listed. So if you are looking for UL listed chimney liner sold directly to homeowners, then look no further than Rockford Chimney