316L Rigid Chimney Liners
316L Applications: Wood, pellet, gas, oil, and coal burning appliances. 316L Rigid Liner has greater corrosion resistance than 304L Rigid Liner. Our 316L rigid liner and components are fabricated from the highest quality stainless steel, laser welded seam for a perfectly round pipe, and UL listed in the US and Canada. 
Shop 316L Rigid Chimney Liners
Learn About 316L Rigid Chimney Liners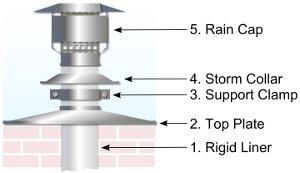 DIY Center
(AKA 'The Rockford Files')
From video tutorials to product walkthroughs, we have a variety of DIY resources just for you! Click the button below to view our entire library.
Need Help?
We are here to answer all of your questions
OR

Our 316Ti flexible chimney liner and chimney liner components have passed the rigorous testing at the Underwriters Laboratories with best in class status and are UL Listed. So if you are looking for UL listed chimney liner sold directly to homeowners, then look no further than Rockford Chimney