Should This Chimney Chase Cover Be Replaced?
July 19, 2023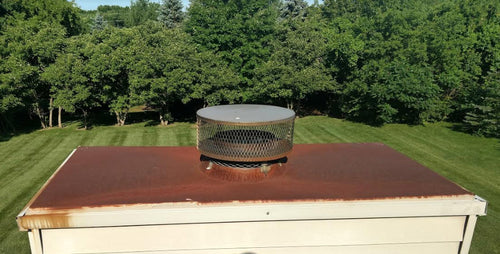 The time has come to replace the siding on your home and get rid of the unsightly rust stains on the side of the chimney caused by the chimney chase cover. While the chase cover might be rusty, it hasn't caused any problems yet, so you decide not to replace the chimney cover. This contractor had the great idea that if he covers the sides of the rusty cover, then it wont stain the new siding. One detail was overshadowed though - this will cause a leak.
Chimney chase covers are always supposed to overhang the sides of the chimney. The side skirt should act like a shingle and shed the water off the sides of the chimney.
When the cover is not replaced, it is just a matter of time until the homeowner experiences another costly repair. It is likely that all the wood underneath the old siding is rotted. This would also cause a lot of water to accumulate on top of the pre-fab fireplace. If there is any rust on the fireplace, the fireplace should not be used. Rust on the top of the fireplace weakens the steel box. When you introduce the extreme heat of a fire, it could cause the fireplace to burn through causing a chimney fire.
Siding over the sides of the chase cover will make it very difficult to remove the rusted cover to replace it. You will have to remove the siding at the top of the chimney and replace it so there is a proper drip edge over the sides of the siding. A 3" side skirt on the new chase cover is perfect to have the proper overhang. Either stainless steel or copper materials are the best options to use for a chase cover. The stainless steel and copper covers will never rust, so you will never experience the unsightly stains again on the chase.
There are a lot of chimney chase covers and siding jobs that were done incorrectly throughout the years. A lot of builders had cut corners to make it easier. If your chimney chase cover looks like this one, do yourself a favor and replace your chimney chase cover before more damage occurs. It will save you a lot of money in the long run.
DIY Center
(AKA 'The Rockford Files')
From video tutorials to product walkthroughs, we have a variety of DIY resources just for you! Click the button below to view our entire library.
Need Help?
We are here to answer all of your questions
OR

Our 316Ti flexible chimney liner and chimney liner components have passed the rigorous testing at the Underwriters Laboratories with best in class status and are UL Listed. So if you are looking for UL listed chimney liner sold directly to homeowners, then look no further than Rockford Chimney