Osburn Horizon Wood Fireplace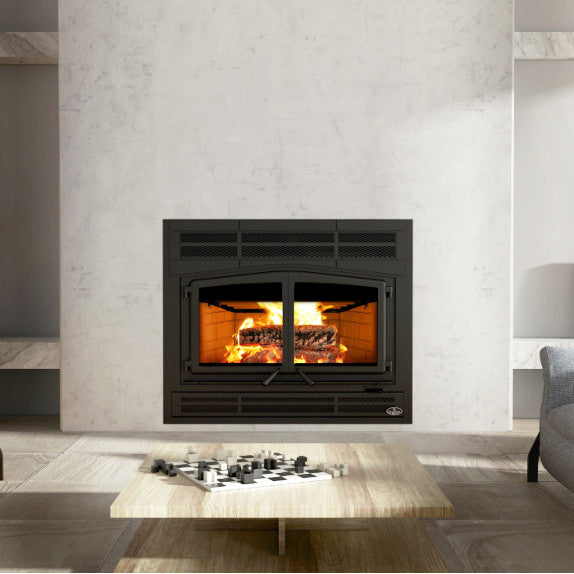 Osburn Horizon Wood Fireplace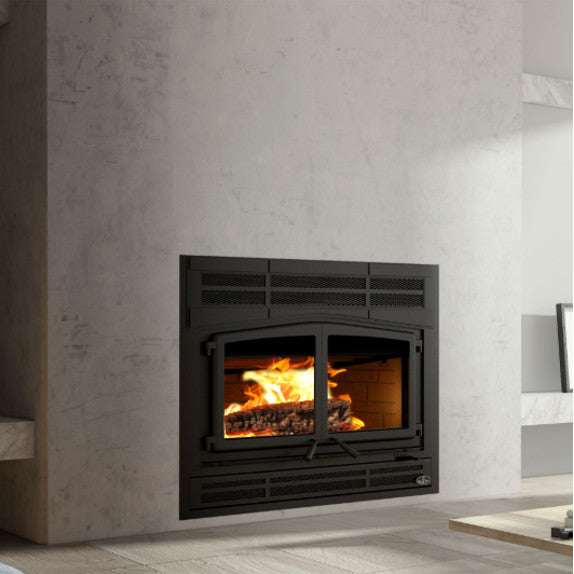 Osburn Horizon Wood Fireplace
Product Details:
The Osburn Horizon wood fireplace is a unit unlike any other. This zero clearance fireplace offers everything including large glass doors for viewing, massive firebox, long burn duration, amazing heat output, energy efficiency and more. If you are looking for a top-notch zero clearance fireplace, you have found it with Osburn's Horizon fireplace. Look no further!
The Osburn Horizon features a firebox volume of 4.28 and has been proven to hold 60 lbs. of firewood. This unit burns very efficiently when run properly and has a low average emissions rate of only 1.6 g/h. The overall dimensions of the fireplace are 43 3/8" height x 50 3/4" width x 31 3/4" depth. Glass surface dimensions for viewing the beautiful, cozy fire are an amazing 29 3/4" x 13 1/2". Premium quality 176CFM blower included.
Features:
High-efficiency 2020 EPA certified appliance
Recommended heating area : 1,000 - 2,800 sq. feet
Premium quality convection blower included 176 CFM
Glass air-wash system
69% optimum efficiency
1.6 g/h Average particulate emissions rate
High heat-resistant C-cast baffle
Stainless-steel secondary-air system improving gas combustion
10 hour Maximum burn time
Non-catalytic combustion technology
Moulded refractory bricks
Flue outlet diameter : 8''
Approved Chimney Type: Rock-Vent Class A chimney system & more
Specifications & Manual
Osburn Horizon Fireplace Product Manual
Osburn Horizon Quick Install Reference Guide
Osburn Horizon Faceplate Install Guide
Osburn Horizon Specifications
Depth - Overall
31 3/4"
Height - Overall
43 3/8"
Width - Overall
50 3/4"
Firebox dimensions (Depth)
17 7/8"
Firebox dimensions (Width)
25 3/8"
Firebox dimensions (Height)
17"
Maximum log length
25"
Door opening dimensions (Width)
33"
Door opening dimensions (Height)
12 3/4"
Type of Door
Double, glass with cast iron frame
Glass Surface
29 3/4" w X 13 1/2" h
Maximum output - EPA test wood
43,021 BTU/h
Maximum input - seasoned cord wood
95,000 BTU/h
Weight
550 lb (250 kg)
Firebox volume (cu. ft.)
4.28
Glass Type
Ceramic glass
Center line of flue outlet to the back
11 7/8"
Center line of flue outlet to the side
25 3/8"
Canadian Standard (emissions)
CSA B415.1-10
USA standard (emissions)
EPA
Canadian Standard (safety)
ULC S610
USA standard (safety)
UL 127
Mobile Home Installation Approval
No
Type of Fuel
Wood
Type of Chimney
UL 103 HT (2100°F) / CAN/ULC S629
Minimum chimney height (feet)
15
Log positioning
Over width
Recommended Heating Area (sq. ft.)
1,000-2,800
Optimum efficiency
69 %
Emissions (grams/hour)
1.6 g/h
Baffle
High heat-resistant C-cast
Recommended chimney diameter
8"
Warranty
Limited lifetime
Tested or/and listed as per applicable standards by
An accredited laboratory
Minimum Clearances to Combustibles
Osburn Horizon Minimum Clearances to Combustibles*
Clearance - top (measured from the platform on which the appliance is installed)**
84"
Clearance - combustible side mantle to unit
8"
Clearance - side wall
24"
* The information given on the certification label affixed to the appliance always overrides the information published in any other media (owner's manual, catalogues, flyers, magazines and/or web sites).
** Some appliances have been tested with a low ceiling. Before setting up your unit, refer to the installation manual.
Required Option Details
Prairie Style Faceplate
The unique design of the Prairie Style Faceplate will give the fireplace a modern, architectural appearance. The grated style mesh conceals the blower and air circulating space. The Prairie Style Faceplate is sure to enhance the aesthetics of any room. The Faceplate measures 41" tall and 44.875" wide. Non-combustible facing material can come in contact with the Faceplate.
Classic Moulded Refractory Brick Panels
The Moulded Refractory Panel Kit is a great way to enhance the heat inside the stove which provides a cleaner burning unit. The Classic Moulded Panel Kit is also great for maintenance with less joints to clean out compared to fire brick.
Optional Accessory Details
5" Fresh Air Intake Register with Airtight Damper
The 5" Fresh Air Intake Register with Airtight Damper opens and closes the fresh air supply to the Horizon fireplace. It's simple mechanism makes it possible to close the damper tightly when the wood fireplace is not in use. This will ensure the wood fireplace is not being cooled when not in use. Fresh Air Intake with Damper Install Guide
Forced Air Distribution Kit
Are you looking to gain a bit more heating capacity out of your Osburn Horizon zero clearance fireplace? The Forced Air Distribution Kit offers a powerful 300 CFM blower that forces hot air from the fireplace to other rooms in the home. Connect the distribution kit to the insulated flex duct and heat more of your home. The Forced Air Kit can heat adjacent rooms either on the same level, above the fireplace and even below the fireplace up to 50' away. The blower must be a minimum of 10' from the fireplace and there must be a minimum of 25' of insulated pipe between the blower and the air outlet register. The distribution kit operates with a thermal disc which will turn on the blower once the firebox has reached a certain temperature and will turn off when the firebox has cooled down. Forced Air Distribution Kit Install Guide
6" x 25' Insulated Flex Pipe for Forced Air Dist. Kit
If you choose to install the Forced Air Distribution Kit to the fireplace, the 6" x 25' insulated flex pipe is a great choice to route your forced air into your existing heating ducts. The insulation will help keep the air warm for better heating capabilities.
Warm Air Circulating Grille
Looking to get more heat from the Osburn Horizon zero clearance fireplace? Install the Warm Air Circulating Grille and you'll get just that. There are no moving parts. The grill will use the radiant heat from inside the chase to push warm air into the room. Install the intake grille on one side of the chase close to the floor and install the top grille over the top of the fireplace. Natural convection will create a draw and push warm air into the room. For optimal air circulation, position the grille on one of the fireplace enclosure sides. The grille can also be installed on the enclosure's front wall, but the air circulation will be reduced. Warm Air Circulating Grille Install Guide
Frequently Bought Together:
DIY Center
(AKA 'The Rockford Files')
From video tutorials to product walkthroughs, we have a variety of DIY resources just for you! Click the button below to view our entire library.
Need Help?
We are here to answer all of your questions
OR

Our 316Ti flexible chimney liner and chimney liner components have passed the rigorous testing at the Underwriters Laboratories with best in class status and are UL Listed. So if you are looking for UL listed chimney liner sold directly to homeowners, then look no further than Rockford Chimney