Drolet Heat Commander Wood Furnace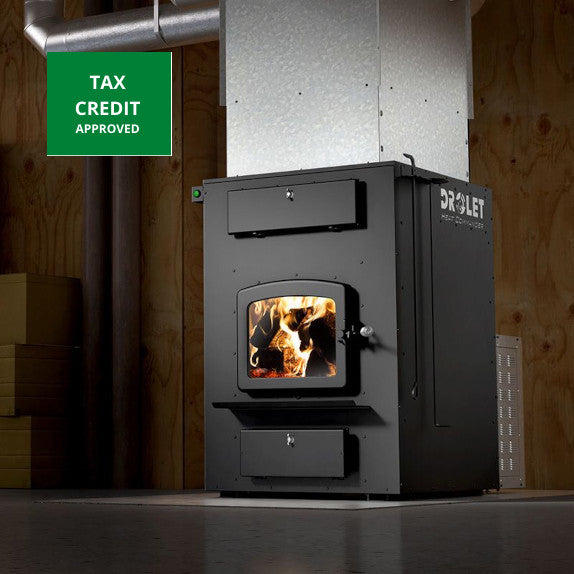 Drolet Heat Commander Wood Furnace
Drolet Heat Commander Wood Furnace
Drolet Heat Commander Wood Furnace
Drolet Heat Commander Wood Furnace
Description:
Approx. Heating Area: 1,000 - 2,500 sq. ft.Max Output: 47,052 BTU/hEligible for Tax Incentive
Product Details:
The Heat Commander is the wood burning furnace you have been waiting for. The revolutionary Dual Fire© technology with a two-stage electronic combustion control that provides a self regulated combustion. Equipped with an automated air supply that works in relation with the cutting edge flame adjustment system that offers reduced maintenance and peace of mind while burning. A wood burning central heating system has never had this much technology built in to provide a level of comfort while maximizing the heating capacity. With a 3.6 cubic ft firebox, The Heat Commander is EPA 2020 approved and its 310,000 BTU capacity can heat up to 2500 sq ft.
The Heat Commander is approved in the United States to run parallel with an existing oil, natural gas or propane central heating furnace to allow you to burn wood as a supplemental heating while still able to burn oil, gas, propane. You will likely not use your old heating system once you realize how easy to run and how efficient the Heat Commander is. The Heat Commander is able to accept up to a 21" log length. With up to a 10 hour burning hardwood, the Heat Commander is truly unparalleled to the competition.
The Heat Commander is EPA rated and has a HHV rating of 75% which qualifies for the wood and pellet stove tax credit through the end of 2032. From January 2023 through December 2032 you can receive up to a 30% tax credit for the installation and parts required, such as chimney liner and insulation. This is one of the largest tax credits the wood and pellet stove industry has ever had.
Click here to view more information about the tax credit
Specifications & Manual
Drolet Heat Commander Wood Furnace Product Manual
Drolet Heat Commander Wood Furnace Dimensions
Drolet Heat Commander Wood Furnace Quick Install Reference Guide
Drolet Heat Commander Wood Furnace Specifications
Depth - Overall
51 1/8"
Height - Overall
63 1/2"
Width - Overall
27 3/4"
Firebox dimensions (Depth)
22 3/4"
Firebox dimensions (Width)
18 1/2"
Firebox dimensions (Height)
16 3/8"
Maximum log length
21"
Door opening dimensions (Width)
13 3/4"
Door opening dimensions (Height)
10"
Type of Door
Single, glass with cast iron frame
Glass Surface
12 3/8" w X 10 1/8" h
Maximum output - EPA test wood
47,052 BTU/h
Maximum input - seasoned cord wood
310,000 BTU/h
Weight
740 lb (337 kg)
Firebox volume (cu. ft.)
3.6
Glass Type
Ceramic glass
Center line of flue outlet to the side
13 7/8"
Center line of flue outlet to the bottom
37 1/8"
Canadian Standard (emissions)
CSA B415.1-10
USA standard (emissions)
EPA
Canadian Standard (safety)
CAN/CSA B366.1
USA standard (safety)
UL 391
Mobile Home Installation Approval
No
Type of Fuel
Wood
Type of Chimney Pipe
UL 103 HT (2100°F) / CAN/ULC S629
Type of Masonry Chimney Liner
UL 1777 / CAN/ULC S640
Minimum chimney height (feet)
See manual - Follow the 10 ft / 3 ft / 2 ft rule
Log positioning
Over width and over depth
Recommended Heating Area (sq. ft.)
1,000-2,500
Optimum efficiency
83.2 %
Emissions (grams/hour)
.095 lb/mmBTU
Baffle
High heat-resistant C-cast
Recommended chimney diameter
6"
Warranty
Limited lifetime
Tested or/and listed as per applicable standards by
An accredited laboratory
Minimum Clearances to Combustibles
Drolet Heat Commander Minimum Clearances to Combustibles*
Clearance - top (measured from the platform on which the appliance is installed)**
69"
Clearance - side wall
11"
Clearance - back wall (single wall stove pipe)
14 1/4"
Clearance - back wall (double wall stove pipe)
6 3/4"
Clearance - front
36" US / 48" CAN
Clearance - recommended for maintenance on option side
24"
* The information given on the certification label affixed to the appliance always overrides the information published in any other media (owner's manual, catalogues, flyers, magazines and/or web sites).
** Some appliances have been tested with a low ceiling. Before setting up your unit, refer to the installation manual.
Optional Accessory Details
Cardboard Frame Air Filter with Support
The Cardboard frame air filter with support allows you to use regular disposable 20" x 15" x 1" cardboard air filters. An air filter is required to prevent dirt, dust or debris, from entering the hot air ducts into the living space. The frame provides everything necessary to support a 20" x 145" x 1" cardboard air filter. Air filter included.
Cold Air Return Housing with Filter
The cold air return with filter is recommended to ensure the system has proper static pressure so the hot air distribution is running correctly and evenly. You may run this to an existing cold air return. The cold air return should be constructed in a way that the volume of the cold air return is equal or slightly higher than the volume of the hot air distribution. This kit will give you everything you need to allow the cold air returns to connect to the furnace. A 10" x 15" x 1" cardboard air filter is included.
Triple Hot Air Supply Adapter Kit
The triple hot air supply kit allows you to easily add three 6" diameter hot air ducts off one side of the appliance. The Heat Commander is approved for a minimum of 6" hot air ducts and a maximum of 10 hot air ducts. This can be used to attach the furnace plenum. Or, used to connect to the homes hot air distribution. Gasket is included to make a tight seal. Hot air ducts sold separately.
Washable Aluminum Air Filter with Support
Tired of constantly running to the store to replace your furnace air filters. The 20" x 15" x 1" washable aluminum air filter will be the last air filter you purchase. Simply remove the air filter and wash it with soap and water. A filter spray can be used to enhance the efficiency and make the next cleaning easier. The aluminum air filter can be used with the cold air return kit.
Frequently Bought Together:
DIY Center
(AKA 'The Rockford Files')
From video tutorials to product walkthroughs, we have a variety of DIY resources just for you! Click the button below to view our entire library.
Need Help?
We are here to answer all of your questions
OR

Our 316Ti flexible chimney liner and chimney liner components have passed the rigorous testing at the Underwriters Laboratories with best in class status and are UL Listed. So if you are looking for UL listed chimney liner sold directly to homeowners, then look no further than Rockford Chimney