2023 - 2032 Wood and Pellet Stove Tax Credit
July 19, 2023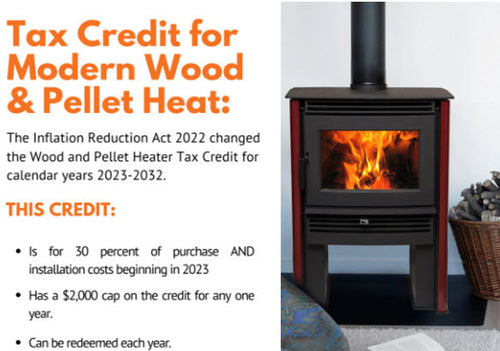 As of January 1, 2023, purchasers of wood and pellet stoves qualify for a major tax credit.
The team at Rockford Chimney Supply knows how much our customers love to save, and that's why we wanted to let you know the latest updates on the tax credit that was signed into law on January 11, 2021, that greatly expands the tax credits available for energy consumption to Americans.

In December 2022, the IRS issued its new Guidance and FAQs for the new 25(C) tax credit (effective for installations January 1, 2023 and December 31, 2032) and updated its guidance for the expiring 25(D) tax credit (effective for installations between January 1, 2021 and December 31, 2022).

What Are the Details?
The wood stove tax credit 2023 applies to all highly efficient wood or pellet stoves and biomass heating systems. Any customer who has purchased and installed a wood and pellet stove as of January 1, 2023, through December 31, 2032, will be qualified to claim a 30% tax credit based on the total cost. Total cost includes installation with a $2000 annual cap (venting and related materials; onsite labor).
What Qualifies?
The language in the ITC indicates that the wood or pellet stove must be highly efficient. This means the stove must be at least 75% efficient per the HHV (higher heating value) of the fuel. Search the database for qualifying appliances
.
Want to take advantage of this credit, but don't have an appliance yet? We carry wood and pellet stoves that fit the requirements and provide efficient heating! Shop our collection of wood stoves and inserts or ask one of our specialists what will work best for your needs.
Further Reading
We will follow all news related to the wood and pellet stove tax credit 2023. Further information, when it is available, can be found on our website
Click here for a helpful information from the HPBA
DIY Center
(AKA 'The Rockford Files')
From video tutorials to product walkthroughs, we have a variety of DIY resources just for you! Click the button below to view our entire library.
Need Help?
We are here to answer all of your questions
OR

Our 316Ti flexible chimney liner and chimney liner components have passed the rigorous testing at the Underwriters Laboratories with best in class status and are UL Listed. So if you are looking for UL listed chimney liner sold directly to homeowners, then look no further than Rockford Chimney