Chimney Rain Caps: Do It Yourself Installation Advantages
July 19, 2023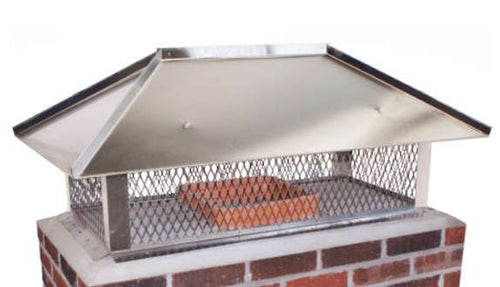 Investing in a Stainless Steel Chimney Cap
Dangers of Not Having a Stainless Steel Rain Cap:
Excessive moisture from rain and snow
Debris from leaves and sticks
Birds bats and other animals
Sparks fly from top of chimney in a chimney fire
Water in furnace
Chimney Repair Costs:
Chimney caps can protect your chimney from weather and keep leaves and other debris out of your chimney. They can also keep out birds, bats, raccoons and other critters that may enter the chimney. Obstructions in your flue such as leaves or animal nests can interfere with draft, causing smoke and carbon monoxide to enter your house, or even starting a chimney fire.
Additionally, many chimney caps have spark screens to keep sparks from the chimney from hitting your roof.
Putting our rain cap on your chimney top is smart! Our stainless steel chimney caps will last a lifetime; you will be saving hundreds of dollars over the years. Installation time typically is 15 to 25 minutes.
So how do I fix the problem?
Very simple, and you can do this yourself. Simply purchase a stainless steel chimney cap from Rockford Chimney Supply and install it. At Rockford you have choices; please view our large selection of chimney caps and pick the one that's right for you. Or call us if you have custom needs. If you can dream it, we can build it. Take a moment to look at your savings and ROI if you install our lifetime warrantied rain caps.
Savings and ROI:
Return on your Investment / ROI:
% of increased efficiency: 10% To 12%
1 Years
Safety for a lifetime
Average dollars saved / year :
DIY Center
(AKA 'The Rockford Files')
From video tutorials to product walkthroughs, we have a variety of DIY resources just for you! Click the button below to view our entire library.
Need Help?
We are here to answer all of your questions
OR

Our 316Ti flexible chimney liner and chimney liner components have passed the rigorous testing at the Underwriters Laboratories with best in class status and are UL Listed. So if you are looking for UL listed chimney liner sold directly to homeowners, then look no further than Rockford Chimney