ENERVEX Fan for Gas/Oil Applications
Product Images
ENERVEX Fan for Gas/Oil Applications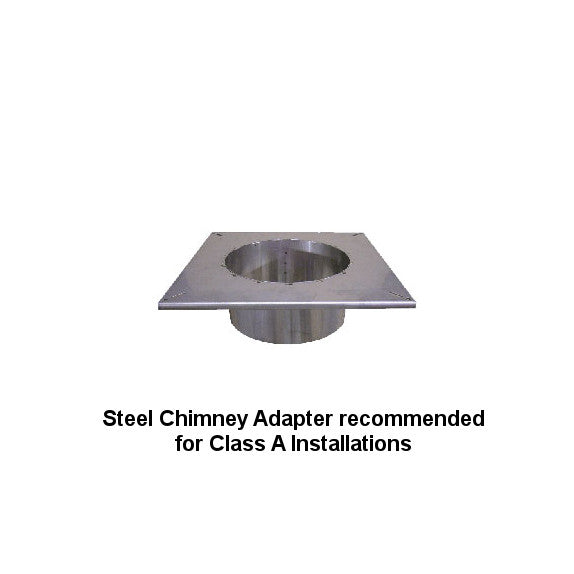 ENERVEX Fan for Gas/Oil Applications
Description:
The Enervex Gas / Oil Burning Chimney Fan System is the answer to your once drafting issues. There are 4...
Product Details:
Applications: Non-solid fuel applications - Gas and Oil
ENERVEX Chimney Fans are especially designed to work with gas/oil stoves and fireplaces. The fan is mounted on top of the chimney and offers variable speed features, which provides the right amount of draft when it's needed. The fan is mounted on top of chimney — out of sight — and provides optimal airflow. When the fireplace is not in use, the fan can be used as a ventilator.
The Enervex Gas / Oil Burning Chimney Fan System is the answer to your once drafting issues. There are four convenient sizes to fit most chimneys. This fan mounts outside the chimney, where it completely extracts the gases from the chimney. Set the fan speed on installation of your system and watch, as the fan automatically turns on and off to adjust for your drafting needs. This Fan System is Cast Aluminum and Stainless Steel, providing a durable, long lasting solution for your drafting problems.
Enervex fans are energy efficient and uses the same amount to energy as a light bulb. This fan is the perfect solution for your draft problems and is sure to keep the gases rising up the chimney.
A Steel Chimney Adapter is recommended for Class A installations.
Features:
ENERVEX Fans are UL-listed, powerful, efficient, and very quiet. The motor is completely enclosed and maintenance free with air-cooled, pre-lubricated, sealed ball bearings. It comes with a pre-wired junction box, a bird screen, and a speed motor control. With the motor speed control, you can adjust the speed of the fan from inside the room. It also doubles as a ventilator: turn it on when you need to refresh the air in the room, and the fan will pull out stale odors and cigarette smoke.
The ENERVEX Fan is designed for minimum energy consumption, using about as much energy as a regular light bulb. Made of premium cast aluminum and stainless steel.
| Model | RSHT9 | RSHT12 | RSHT14 | RSHT16 |
| --- | --- | --- | --- | --- |
| Width | 11.7" | 14.3" | 16.6" | 18.8" |
| Length | 11.7" | 14.3" | 16.6" | 18.8" |
| Height | 10.2" | 11.5" | 13.1" | 16" |
| Weight | 29 lbs. | 37 lbs. | 47 lbs. | 61 lbs. |
| CFM | 450 | 950 | 1400 | 1950 |
---
Quick Facts:
Quiet Operation
Two year factory warranty; 10 year corrosion perforation warranty and a 6 month UNCONDITIONAL money back guarantee
110V energy efficient and maintenance free motor consumes energy equivalent to a standard light bulb.
Easy, no-mess installation
Use for gas and oil appliances (Wood/pellet/coal burning model available also)
The compact design of the fan makes it barely visible from ground level. However, the fan may be recessed or hidden behind chimney top enclosure such as copper caps, shrouds, cupolas, etc.
Available in four sizes
---
Warranty:
2 Year Factory Warranty - Will replace or repair any part or parts due to defect in material or workmanship, without a charge for parts and labor, for the first 2 years from day of installation. Will not cover re-installation fees.
10 Year Corrosion Perforation Warranty - For the person of purchase, will replace or repair any part or parts at manufacturer's discretion, which are due to corrosion, for the first 10 years from day of installation. Will not cover re-installation fees.
6 Month Performance Guarantee - Allows customer a full refund if doesn't meet satisfaction. Will not cover shipping charges or dismantling charges.
---
Round Chimney Adapters:
With Adapters, ENERVEX Fans can be used with round flues as well as square or rectangular flues.
Air Cooled Chimney Adapters:
The Steel Chimney Adapter is used when installing the RS chimney fan on the top of a single, double or triple wall steel chimney. The adapter is designed to slide into the steel chimney for a tight fit. The outer diameter of the collar is 1/8" smaller than the inner diameter of the steel chimney, and has a 5" deep collar.
Frequently Bought Together:
DIY Center
(AKA 'The Rockford Files')
From video tutorials to product walkthroughs, we have a variety of DIY resources just for you! Click the button below to view our entire library.
Need Help?
We are here to answer all of your questions
OR

Our 316Ti flexible chimney liner and chimney liner components have passed the rigorous testing at the Underwriters Laboratories with best in class status and are UL Listed. So if you are looking for UL listed chimney liner sold directly to homeowners, then look no further than Rockford Chimney