Chimney Part
Powder Coating Options
About Powder Coating
Rockford Chimney Supply offers several color options to choose from when it comes to your new chimney caps, chimney pipe and more. Powder coating not only adds durability to the finish of the chimney product, but your new product will blend in aesthetically with your home. This is a great option that we offer that others don't. Please contact a Certified Technician today with any questions you have! Note: Powder coating does add additional time to process your order (3-7 business days on average). Powder Coated parts are custom and non-returnable.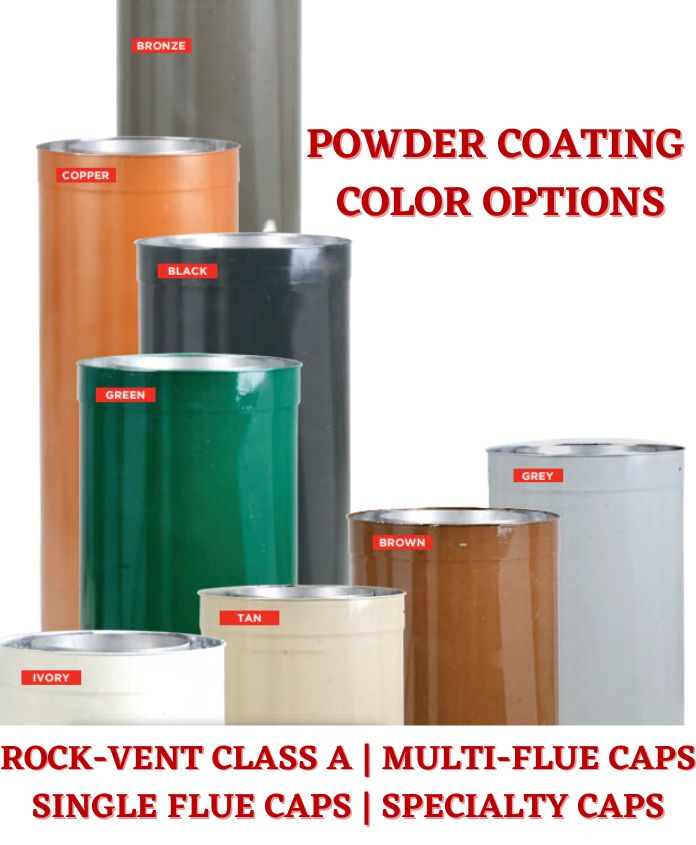 Powder Coat Options
As you can see, our color options include Ivory, Tan, Grey, Copper, Green, Brown, and Black. Which color would suite your home the best? Any of our color options are sure to add beauty to your chimney installation.
Powder Coat Chimney Part Examples
Below you can see a few examples of our powder coating abilities.
DIY Center
(AKA 'The Rockford Files')
From video tutorials to product walkthroughs, we have a variety of DIY resources just for you! Click the button below to view our entire library.
Need Help?
We are here to answer all of your questions
OR

Our 316Ti flexible chimney liner and chimney liner components have passed the rigorous testing at the Underwriters Laboratories with best in class status and are UL Listed. So if you are looking for UL listed chimney liner sold directly to homeowners, then look no further than Rockford Chimney