DuraVent Direct Vent Pro Elbow
DuraVent Direct Vent Pro Elbow
DuraVent Direct Vent Pro Elbow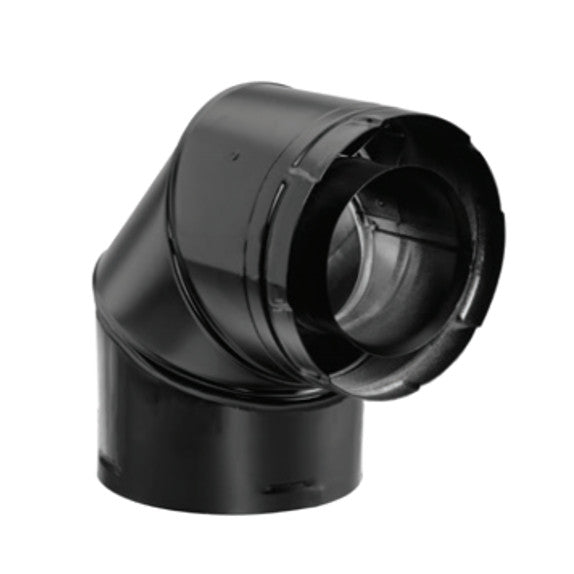 DuraVent Direct Vent Pro Elbow
Description:
DuraVent Direct Vent Pro Elbows are perfect for offsetting the pipe for unique installations. Available in fixed 45 degree and...
Product Details:
The DuraVent Direct Vent Pro Elbows can assist in a wide range of installations. The elbows are great to make the turn to vent horizontally through the wall. They are also great for offsetting the pipe around a beam for vertical venting.

Our 45 and 90 degree elbows are available in either black or galvanized finish. The elbows are able to swivel around the pipe while still remaining a tight connection to allow the elbow to be positioned in any direction. The elbows will remain in a fixed position at either 45 or 90 degree angle. Note: Refer to fireplace manufacturer's Owners Manual to see the maximum number of elbows approved for the appliance.
Sizing:
Elbow
Measurement A
4" x 6 5/8"
Measurement B
4" x 6 5/8"
Measurement A
5" x 8"
Measurement B
5" x 8"
5 3/4"
5 1/8"
6 5/8"
6"
6 1/2"
6 1/2"
7 3/8"
7 3/8"
Frequently Bought Together:
DIY Center
(AKA 'The Rockford Files')
From video tutorials to product walkthroughs, we have a variety of DIY resources just for you! Click the button below to view our entire library.
Need Help?
We are here to answer all of your questions
OR

Our 316Ti flexible chimney liner and chimney liner components have passed the rigorous testing at the Underwriters Laboratories with best in class status and are UL Listed. So if you are looking for UL listed chimney liner sold directly to homeowners, then look no further than Rockford Chimney