Brick Chimney Covers: Masonry Chimneys need Chase Covers too!
July 19, 2023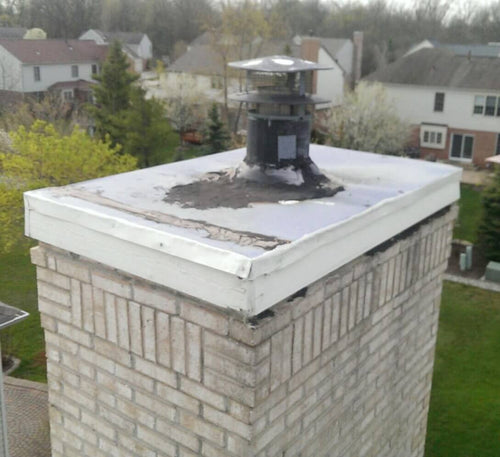 Before: Deteriorated Brick Masonry Chase Covers
Just like a wood built chimney chase, a masonry brick chimney also benefits from having a Stainless Steel Chase Cover.

Masonry chimneys have mortar capped crowns that are designed to prevent standing water and keep water and moisture from entering the bricks and into the home. But, over time and neglect, these cement crowns deteriorate, crack, and leak. This will lead to extensive and costly repairs, which will still require regular inspections and maintenance including waterproofing, sealing and filling cracks and voids with patching cement or high quality caulk, and climbing up on the roof and chimney.
 After: Stainless Steel Chase Cover Installed on Brick Chimney
A Stainless Steel Chase Cover will fit over the top of your chimney and prevents the elements, snow, rain or hail from deteriorating your chimney.

Our chase covers have a pitched top to prevent any water accumulation, and prevents further destruction of the chimney crown. Chase covers can have more than one flue opening and these openings can be square, rectangle or round. The side skirt panels can be fabricated with longer lengths for chimneys that have larger pitches to them and will have drip edges to prevent water from dripping onto the side of your brick. Depending on the style of your existing Rain Cap, they can be reused, or new stainless chimney caps are available. Stainless Steel Chase Covers have a lifetime warranty and just might make going up on the chimney again, a thing of the past!
DIY Center
(AKA 'The Rockford Files')
From video tutorials to product walkthroughs, we have a variety of DIY resources just for you! Click the button below to view our entire library.
Need Help?
We are here to answer all of your questions
OR

Our 316Ti flexible chimney liner and chimney liner components have passed the rigorous testing at the Underwriters Laboratories with best in class status and are UL Listed. So if you are looking for UL listed chimney liner sold directly to homeowners, then look no further than Rockford Chimney