Chimney Thimbles: Passing Safely Through a Combustible Wall
July 19, 2023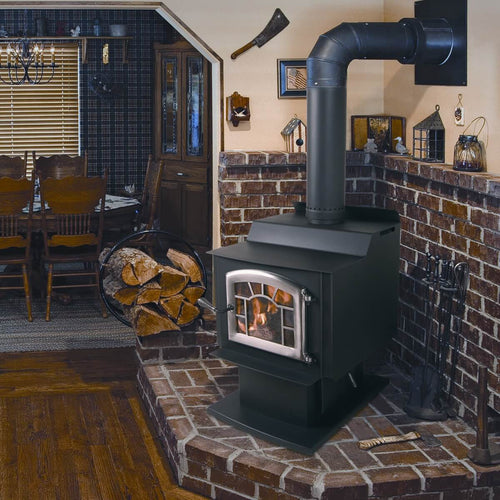 A major cause of chimney related fires, is failure to maintain required clearances (air space) to combustible materials. It is of utmost importance that the Insulated Thimble be installed only in accordance with their instructions.
Running any residential or building heating appliance, burning gas, liquid, or solid fuels through a combustible wall, will require an Insulated Wall Thimble as your passageway to connect appliances to interior or exterior masonry chimneys. The criteria for installing the Insulated Wall Thimble is in accordance with the N.F.P.A. 211 (Standard for Chimneys, Fireplaces, Vents and Solid Fuel Burning Appliances) and building codes, and should be UL Listed.
Wall thimbles are an important component for venting stoves and other appliances since the thimble will insulate between the pipe and the wall, to protect drywall, wood frames and other materials from high temperatures and risk of fires. Insulated Wall Thimbles are designed so the thimble assembly will reduce the minimum 18 inch clearance to combustibles, to a minimum of at least 2" clearance. You should pack insulation snugly against the outside box frame of the thimble, but never place insulation into the area within the thimbles's cylinder.
Single wall stove pipe, going from the stove to the chimney must have a minimum of 18" clearance to combustibles. 180 degree heat shields are available for single wall pipe, to reduce clearances to 6" for walls and 9" to the ceiling. Clearance for double wall stove pipe is 6" for these areas.
More examples of Chimney Thimble installations:
(Photo Credit to the forum users on Hearth.com)
---
DIY Center
(AKA 'The Rockford Files')
From video tutorials to product walkthroughs, we have a variety of DIY resources just for you! Click the button below to view our entire library.
Need Help?
We are here to answer all of your questions
OR

Our 316Ti flexible chimney liner and chimney liner components have passed the rigorous testing at the Underwriters Laboratories with best in class status and are UL Listed. So if you are looking for UL listed chimney liner sold directly to homeowners, then look no further than Rockford Chimney