Mini Wood Stove Venting Options
July 19, 2023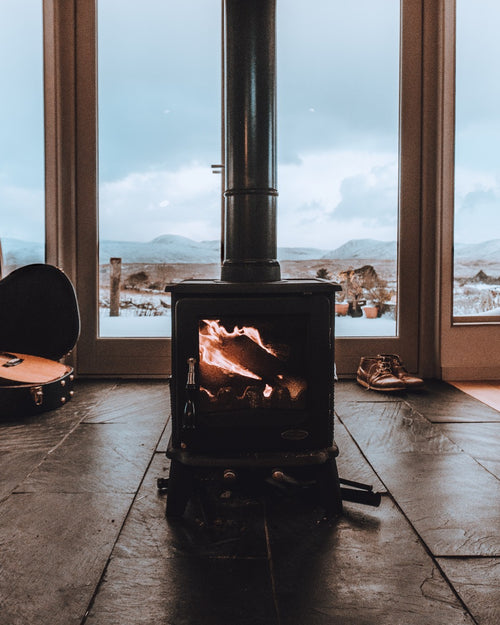 Chimney Pipe Options for Your Mini Stove
You've probably landed here because you are considering installing a mini wood stove and are looking for venting options. Venting options for mini wood stoves are a grey area. This is mainly attributed to the fact that small diameter U.L. listed chimney pipes are not available. You're not out of luck though! We have a set of options along with pros and cons. Evaluate your options and see what installation setup would work best for you.
Installing the Stove Manufacturer's Pipe
In some cases, the mini wood stove manufacturer offers a selection of chimney pipe in smaller diameters such as 3", 4", and 5". The safety concern here is that their pipe is typically made overseas and has not been U.L. tested or listed.
This is an option provided by the stove manufacturers, but has it's pros and cons like all options available.
PROS:
Manufacturer's are providing a venting option that is readily available to their mini stove customers
Properly sized pipe diameters are ideal for the draft of the wood burning stove
CONS:
The systems we have researched are not U.L. tested or listed. This is a safety concern for materials used, clearance to combustibles, etc.
The systems we have researched are not made in America
Not all tiny stove manufacturers offer a selection of pipes
Installing U.L. Listed Chimney Pipe
The smallest diameter size of U.L. listed Class A chimney pipe is 5". Many tiny stoves on today's market have a 4" or 5" exhaust outlet. Using 5" chimney pipe for these stoves is a viable option to consider.
PROS:
Proven to be a safe UL103HT listed Class A chimney pipe system with 2" clearance to combustibles
Large selection of components including wall pass-thru, roof flashing, and more
Stove pipe increasers are available
Made in USA
High-grade stainless steel
CONS:
Increasing the diameter size is not ideal for the draft of a mini wood stove. Tiny wood stoves tend to be more sensitive to increasing or decreasing the flue design. Most manufacturer's we spoke to about this do not recommend increasing the vent size more than 1 or 2 sizes.
The Common Question on Pellet Vent
We often get the question asking if it's okay to use Pellet Vent Pipe with a mini wood stove since Pellet Vent is available in small diameters. Pellet Vent is intended for pellet burning stoves and is not listed to be used with firewood. Typically with the Type L (low temperature) listing, the flue gases must not exceed 570 degrees Fahrenheit for Pellet Vent Pipe. Therefore, this is not a viable option for mini wood stoves that commonly reach temperatures of 400 - 800 degrees Fahrenheit.
---
It's important to note that during any installation the manufacturer's manual should be abided by. Many of the tiny wood stove manufacturers don't discuss chimney size or height in detail in the manual. In this case, it would be advisable to speak to the manufacturer about your particular plan for chimney installation.
As always, we are here to help and you can contact us with your mini wood stove venting questions!
DIY Center
(AKA 'The Rockford Files')
From video tutorials to product walkthroughs, we have a variety of DIY resources just for you! Click the button below to view our entire library.
Need Help?
We are here to answer all of your questions
OR

Our 316Ti flexible chimney liner and chimney liner components have passed the rigorous testing at the Underwriters Laboratories with best in class status and are UL Listed. So if you are looking for UL listed chimney liner sold directly to homeowners, then look no further than Rockford Chimney