Commercial Wood Furnaces Explained
October 12, 2023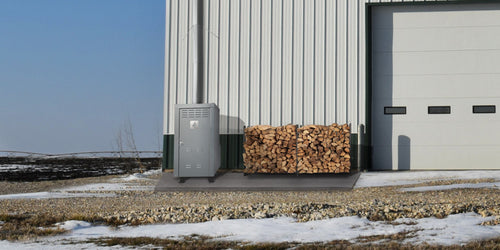 In this overview of commercial wood furnaces, we will start by explaining the regulatory changes between commercial and residential wood furnaces, how to qualify for purchasing a commercial wood furnace, as well as options to purchase via an easy-to-use contact form.
Regulatory Changes for Commercial Wood Furnaces
Recent legal and regulatory changes have put mandates on manufacturers to differentiate between residential and commercial wood furnaces. The commercial furnace category, regulated by the EPA, is open to full-time commercial businesses who qualify for these type of wood furnaces. Most common buyers include farmers, ranchers, and other agricultural businesses.
Do I Qualify for a Commercial Wood Furnace?
Suppliers of commercial wood furnaces need to collect proof that the buyer does in fact own a business and the use of the wood furnace is solely for business operations. As such, the most common types of proof for business ownership include one of the following:
Copy of business license
Copy of articles of organization
Copy of 1040 individual income tax return
Copy of Schedule K-1
OR.... Copy of business lease agreement
Any of these documents typically suffice to prove ownership of a commercial business and would be enough to move forward with your purchase.
What Options Do I Have for a Commercial Wood Furnace? How Do I Get a Price?
Rockford Chimney Supply has worked with several different manufacturers over our 15+ years of business. Let us help you get in touch with the leading manufacturer of Commercial Wood Furnaces (HY-C Corporation) by filling out this form below. HY-C corporation will be in touch with you within 1-2 business days.
The average cost of a high quality commercial wood furnace such as the Ignite Tech HD80 Indoor and the HD90X outdoor furnaces are $4,399 to $4,999.
Let us make the choice & verification process easy for you - fill out this form to learn more.
DIY Center
(AKA 'The Rockford Files')
From video tutorials to product walkthroughs, we have a variety of DIY resources just for you! Click the button below to view our entire library.
Need Help?
We are here to answer all of your questions
OR

Our 316Ti flexible chimney liner and chimney liner components have passed the rigorous testing at the Underwriters Laboratories with best in class status and are UL Listed. So if you are looking for UL listed chimney liner sold directly to homeowners, then look no further than Rockford Chimney