Clearances to Combustible Materials for Fireplaces & Stove Pipe
July 19, 2023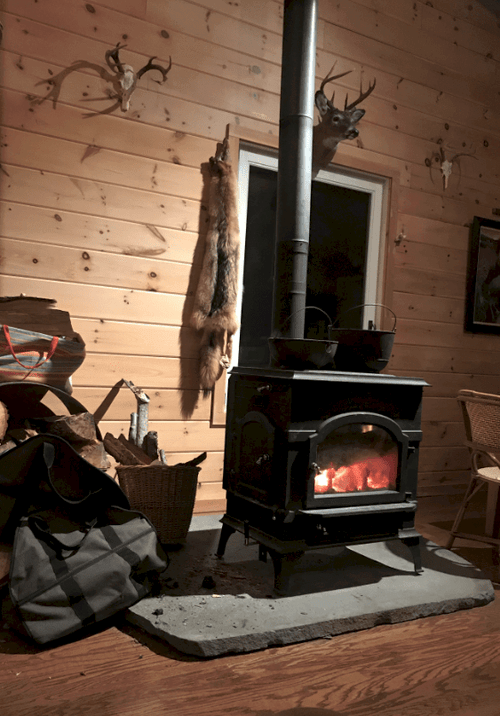 Clearance to walls and surfaces is an important consideration when choosing and installing heating appliances. While there are many situations to cover when speaking about clearances, in this article we will try to address the ones that are most frequently asked about.
What is Clearance to Combustible Materials?
Combustibles are any material or surface that can burn, including wood or wood products, drywall, compressed paper, plant fibers, plastics or any other material that can ignite and burn whether flameproofed or not, or whether plastered or un-plastered. Clearance is the distance that is considered to be safe between a heat-producing appliance, chimney, chimney liner, vent pipe, vent connector or other hot surfaces, and combustible materials.
What are the Allowable Clearances?
Below are the allowable clearances for a number of common situations. The dimensions for the clearances were determined after thoroughly testing the stoves and components; all the temperatures were recorded, and only then were safe clearances established. Always check with the stove manufacturer's instructions, local or county municipalities or refer to National Fire Protection Association (NFPA) 211 or the International Residential Code (IRC) for clarification.
Masonry Fireplaces
All combustible mantels and similar trim shall be kept at least 6 inches from fireplace openings. Parts of the mantel assembly located along the sides of the fireplace opening, which project more than 1-1/2 inches from the face of the fireplace, shall have additional clearance equal to the projection. Parts of the mantel assembly located above and projecting more than 1-1/2 inches from the fireplace opening shall not be placed less than 12 inches from the top of the fireplace opening.
Exposed combustible mantels and trim may be placed directly on the masonry fireplace front surrounding the fireplace opening providing such combustible materials shall not be placed within 6 inches of a fireplace opening. Combustible material within 12 inches of the fireplace opening shall not project more than 1/8 inch for each 1-inch distance from such opening.
Free Standing Stoves
STOVEPIPE PROTECTION:
Stovepipe, and chimney connectors, must also be a certain distance from both combustible walls and ceilings. The NFPA calls for an 18" clearance to combustible walls for
single wall stove pipe
. Double wall stovepipe is used when you don't have 18" or more clearance from combustibles. Most of the
double wall stove pipe
allows for 6" clearance from wall combustibles and 8" from ceiling combustibles.
Using a "Heat Shield" on a single wall stovepipe allows you to reduce the clearances from 18" to 6" to the wall and 9" to the ceiling. Many think stovepipe can run from the wood-stove, right up through the ceiling and roof. This is not the case and can only run from the stove to where it will go through a ceiling or wall. At that point it needs to be connected to a Class A pipe if going into the ceiling, attic and roof. This pipe has a 2" clearance from combustibles and is insulated. Going into a combustible wall requires an insulated thimble. Please contact a qualified technician or installer for more details.
FLOOR PROTECTION:
For an unlisted stove (one that is 20 years old is probably unlisted), floor protection must be a noncombustible material and extend to at least 18" from all sides of the appliance. For listed stoves it should extend at least 8" on the sides and back and 18" in the front. The basic floor protection specified by NFPA applies to stoves with legs over 6" in height. This means that the floor of the stove combustion chamber should be at least this height above the floor surface. Never shorten or remove the legs or the pedestal of a stove. The pad isn't designed to protect your floor from overheating, but to ensure that no stray sparks or embers from the stove set the floor on fire. The floor pad can be brick, concrete, slate, ceramic tile or another noncombustible material, and in most cases, it may not be installed on top of carpeting.
WALL PROTECTION:
For an unlisted stove there should be at least 36" from combustible walls, measured in a straight line to the walls. For stoves that are installed in a corner, the same requirement, 36" straight line from the stove to the wall, applies. Stove manufacturer's owners manuals should be checked for possible reductions. These wall protection measurements can be reduced with the proper wall protection. Using a piece of 24 gauge sheet metal installed on spacers 1" from an existing wall and floor will reduce stove clearances by 66% - or from 36" to 12". The clearance reduction is usually measured from the rear of the stove to the original combustible wall, not to the sheet metal. The shield can be constructed of sheet metal, copper, cement board with tile attached, or masonry such as brick. The idea is to allow air to flow, keeping the wall cooler, as the shield is a barrier to heat. The airflow behind the shield keeps the backside of the shield and the wall cool. The size of the shield required will depend on the stove.
Most newer stoves permit you to place the stove much closer than 36" to combustible wall surfaces. Some models have additional heat shields that can be purchased which will allow even closer installation. Once again, you should consult the manual on your specific model.
CEILING PROTECTION:
Be careful when installing stoves in areas with low overhead clearance, such as basements and rooms with sloped ceilings. NFPA requires 48" from the top of a stove to a combustible ceiling. This can be reduced by use of proper protection. Some newer stoves call for less clearance, as small as 3 feet. As always, consult the manual for newer and listed stoves.
ALCOVE PROTECTION:
Older and unlisted stoves should not be installed in an alcove constructed of combustible materials. However, some newer stoves allow this installation and have tested their models specifically for this type of setup. Check the manufacturer's manual, they will specifically state if it is approved.
These recommendations cover a wide range of situations, but yours may be different. If you have any questions, please feel free to call us at Rockford Chimney Supply — we're happy to help out!
DIY Center
(AKA 'The Rockford Files')
From video tutorials to product walkthroughs, we have a variety of DIY resources just for you! Click the button below to view our entire library.
Need Help?
We are here to answer all of your questions
OR

Our 316Ti flexible chimney liner and chimney liner components have passed the rigorous testing at the Underwriters Laboratories with best in class status and are UL Listed. So if you are looking for UL listed chimney liner sold directly to homeowners, then look no further than Rockford Chimney