Chimney Insulation Mix - Everguard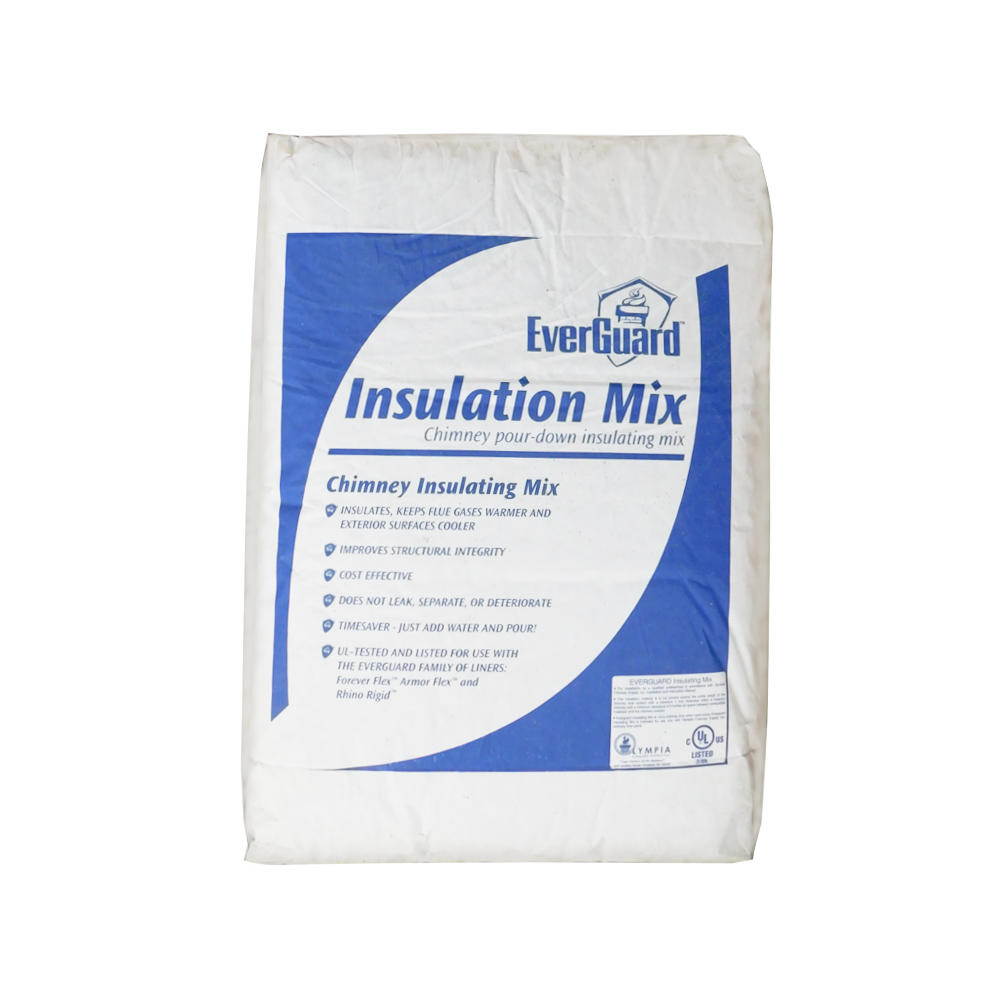 Chimney Insulation Mix - Everguard
Description:
Everguard insulation mix is a ready mix, vermiculite based insulation material. Simply prepare by gradually adding 4-7 gallons of water....
Product Details:
Everguard insulation mix is a ready mix, vermiculite based insulation material. Simply prepare by gradually adding 4-7 gallons of water. When the insulation is properly mixed, it will hold together when squeezed in your hand, and no water should come out. Pour the mix around the chimney liner, while shaking the liner slightly to let the mixture settle, then let it solidify. Cure time is 24-48 hours.
This pour-down insulator is an alternative insulating method to using Super Wrap. Great for tight fitted lining jobs or insulating after a liner has been installed.It's easy to work with. It will fill dangerous voids and cracks in the masonry work while strengthening the chimney walls.
It cures into a lightweight, semi hard mass that supports a liner in the chimney and forms a thermal barrier that keeps the flue gases warm.
This product adds performance to your liner and is very durable. It is UL listed for zero clearance to combustibles. The mix eliminates moisture buildup between the liner and the chimney structure. It is accepted by building code officials, and what's better is that it can also be removed.
One bag weighs 45 lbs and covers 2.5 cubic feet. See insulation mix instructions.
Note: A chimney balloon is the best solution to stop the insulation mix from leaking into your fireplace or down into your cleanout door at the base of your chimney. For example, inflating a chimney balloon inside your chimney just below the thimble will prevent the insulation mix from filling up the flue cavity below the thimble, which would seal off access through the cleanout door. The chimney balloon should be removed, once the insulation mix has cured, before a fire is lit in the chimney.
Additional Details:
Poured into the chimney after the stainless steel liner is installed.
Distribute evenly around the liner and vibrate the liner by firmly tapping it while pouring insulation around it.
The insulating material must be 6" below the crown to allow for vertical thermal expansion.
Be sure no insulation mix has fallen into the liner.
Heating appliance or fireplace can be fired after installation. Keep flue gas temperatures below 700 degrees F for a period of three weeks to allow for a gradual drying process of the insulating material.
A 1" layer of Everguard Insulation Mix between the liner and 4" nominal masonry provides a zero clearance listing from the chimney masonry exterior to combustibles.
Product Video:
Frequently Bought Together:
DIY Center
(AKA 'The Rockford Files')
From video tutorials to product walkthroughs, we have a variety of DIY resources just for you! Click the button below to view our entire library.
Need Help?
We are here to answer all of your questions
OR

Our 316Ti flexible chimney liner and chimney liner components have passed the rigorous testing at the Underwriters Laboratories with best in class status and are UL Listed. So if you are looking for UL listed chimney liner sold directly to homeowners, then look no further than Rockford Chimney