Co-Axial to Co-Linear Appliance Adapter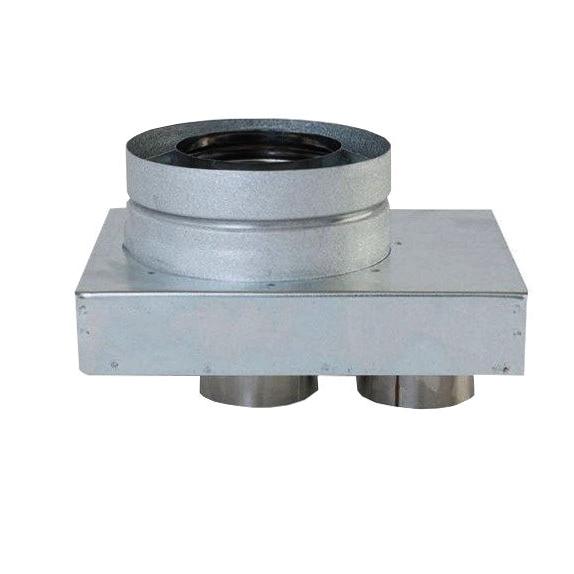 Co-Axial to Co-Linear Appliance Adapter
Description:
Use the Co-Axial to Co-Linear Appliance Adapter to transition a 4" inner 6 5/8" outer co-axial direct vent appliance to a 3"...
Product Details:
The Co-Axial To Co-Linear Appliance Adapter is used to transition a direct vent gas fireplace with a 4" inner and 6 5/8" outer exhaust hole to a co-linear 3" exhaust and 3" air intake venting system. This is great for when you want to install a direct vent gas fireplace inside a masonry fireplace. Co-linear venting is essential when using a direct vent gas fireplace as a fireplace insert. Oftentimes the chimney for a fireplace makes a bend around the damper and smoke shelf which makes it difficult installing the solid direct vent pipes. Transitioning to co-linear venting allows you to install two 3" flexible liners for the exhaust and the fresh air intake.
Note: You must first check with the direct vent fireplace installation instruction to determine if the co-linear chimney venting is approved with your direct vent fireplace.
Frequently Bought Together:
DIY Center
(AKA 'The Rockford Files')
From video tutorials to product walkthroughs, we have a variety of DIY resources just for you! Click the button below to view our entire library.
Need Help?
We are here to answer all of your questions
OR

Our 316Ti flexible chimney liner and chimney liner components have passed the rigorous testing at the Underwriters Laboratories with best in class status and are UL Listed. So if you are looking for UL listed chimney liner sold directly to homeowners, then look no further than Rockford Chimney