Double Wall Black Stove Pipe
Double Wall Black Stove Pipe
Double Wall Black Stove Pipe
Double Wall Black Stove Pipe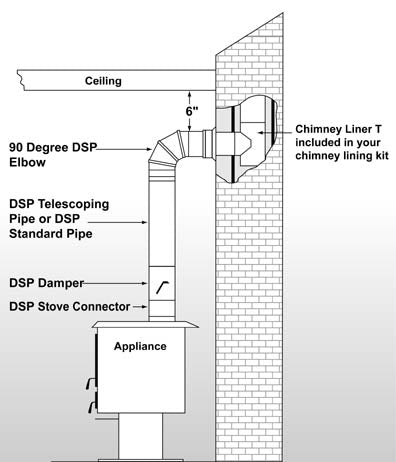 Double Wall Black Stove Pipe
Double Wall Black Stove Pipe
Double Wall Black Stove Pipe
Description:
Use Black Double Wall Stove Pipe when you need to reduce clearances to combustibles. Double Wall piping has a limited...
Product Details:
Our Black Double Wall Stove pipe has the highest quality of any other black pipe on the market due to it's fume free finish and Thermal Web design. The patented Fume Free finish eliminates fumigating effects on initial firing of the appliance. No more smelly stove pipe! The exclusive Thermal Web design creates a free airflow that cools the outer pipe temperature like no other pipe on today's market. With smooth weld technology and precise end forming, you are sure to have a perfect round pipe to pipe fit every time.
The stainless steel inner liner, 1/2" air space, and outer casing provide superior insulating qualities compared to single wall pipe. This enhances the performance of your wood stove by improving draft (which prevents "smoking"). Double Wall Stove Pipe also reduces potential creosote build-up, to prevent chimney fires - making your chimney system safer and longer lasting.
Compatible with our black stove pipe along with Ventis, Champion, and Nexvent.
Note: When ordering, please be sure to allow an extra 1-3/4" for overlap wherever liner sections will be joined together. Double wall stove pipe cannot be cut or trimmed.
Features:
Outer shell is 24 gauge black steel
Inner shell is 430 stainless steel
6 in. wall clearance and 8 in. ceiling clearance
Available in 6", 7", and 8" inner diameters
No more smelly stove pipe with our patented fume free finish
Precise round ends due to smooth weld technology
Helps keep flue gases warm to enhance wood stove draft and reduce the amount of creosote buildup
Frequently Bought Together:
DIY Center
(AKA 'The Rockford Files')
From video tutorials to product walkthroughs, we have a variety of DIY resources just for you! Click the button below to view our entire library.
Need Help?
We are here to answer all of your questions
OR

Our 316Ti flexible chimney liner and chimney liner components have passed the rigorous testing at the Underwriters Laboratories with best in class status and are UL Listed. So if you are looking for UL listed chimney liner sold directly to homeowners, then look no further than Rockford Chimney