Drolet Bistro Wood Burning Cookstove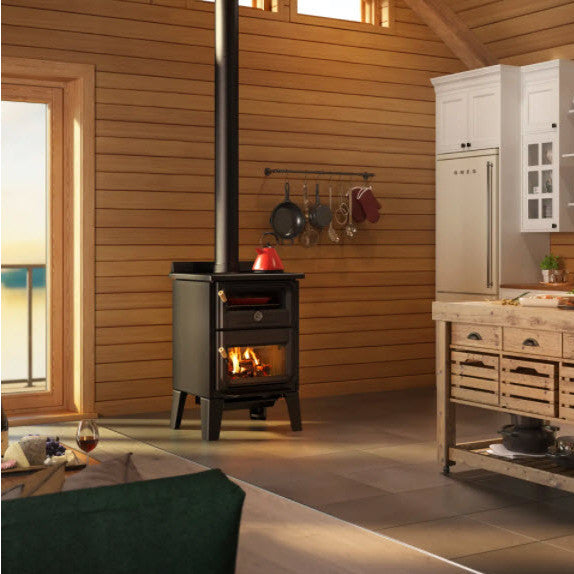 Drolet Bistro Wood Burning Cookstove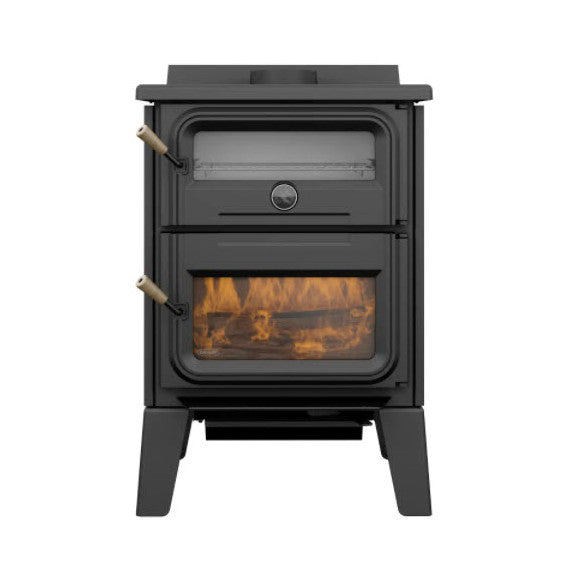 Drolet Bistro Wood Burning Cookstove
Drolet Bistro Wood Burning Cookstove
Drolet Bistro Wood Burning Cookstove
Drolet Bistro Wood Burning Cookstove
Description:
Robust cast iron cooking surface.Stainless steel oven designed for even cooking.Stainless steel cooking grid (2 positions)
Product Details:
The Bistro Wood Burning Cookstove is a perfect hybrid between a wood stove and a cookstove. The 2.4 cubic foot firebox is capable of burning up to a 20" log which is one of the largest fireboxes of any cookstoves out there. The Bistro cookstove offers up to a remarkable 8 hour burn time on one load of wood. This is more than capable to heat your home. No electricity is needed which allows you to cook high quality meals even when the power is out.
The large cast iron cooktop allows you to evenly sauté everything from shrimp to vegetables and get the perfect sear for meat or fish. The 1.26 cubic foot stainless steel oven offers a stainless steel cooking grid with two cooking positions (center or bottom of the oven) and can perfectly cook or bake anything you can come up with. The oven sits at the ideal height to easily handle dishes.
The glass oven door allows you to view what you are cooking from a safe distance. The integrated thermometer monitors the temperature which ranges from 150 to 750 degrees F. You can control the combustion with the air control damper so you are able to easily regulate the cooking temperatures.
The elegant design will certainly complement any kitchen. The Bistro wood cookstove is one of the more compact cookstoves and will not take up a large footprint in your home. The back of the stove is able to get as close as 2.5" to a back wall with the proper heat shield and double wall stove pipe. If you are a gourmet chef or just someone looking to make an occasional meal while heating your home, the Bistro wood burning cookstove is for you. Optional Steatite cooking plates are available to assist you in cooking the perfect meal.
Specifications & Manual
Drolet Bistro Wood Cook Stove Installation and Operation Manual
Drolet Bisto Wood Cook Stove Dimensions
Drolet Deco II Wood Stove Specifications
Fuel Type
Dry cordwood
Overall firebox volume
2.4 ft³
Maximum burn time
8 h
Size
Large
Mobile home approved
Yes, with fresh air intake
Certified according to applicable standards
By an accredited laboratory (CAN/USA)
Flue outlet diameter
6"
Distance-center of the flue outlet to back unit
6 5/8"
Distance-center of the flue outlet to side unit
13 1/2"
Chimney diameter
6"
Type of chimney
CAN/ULC S629, UL 103 HT (2100 °F)
Oven dimension (Width
18"
Oven dimension (Height)
7 7/8"
Oven dimension (Depth)
15 1/2"
Volume of the oven
1.26 ft³
Overall dimension (Width)
27"
Overall dimension (Height)
41 7/8"
Overall dimension (Depth)
26 3/8"
Door type
Single, glass with cast iron frame
Door opening size (Width)
17 1/2"
Door opening size (Height)
9"
Glass type
Ceramic glass
Glass surface - W x H
16 1/2" x 7 1/2"
Firebox size (Width)
21"
Firebox size (Height)
11 7/8"
Firebox size (Depth)
16 1/2"
Maximum log length
20"
Log positioning
Loading over width
Baffle type
High quality vermiculite
High-efficiency certified appliance
Exempt
Warranty
Limited lifetime
Shipping Weight
575 lb (261 kg)
Steel thickness-body
3/16''
Minimum Clearance to Combustibles:
Canada
United States
Clearance to Combustibles*
Single Wall
Double Wall
Single Wall
Double Wall
Clearance - Back Wall
15"
6"
15"
6"
Clearance - Side Wall
15"
15"
15"
16"
Clearance - Corner
7 1/2"
5"
7 1/2"
5"
Clearance - Base of the unit to ceiling**
72"
72"
72"
72"
* The information given on the certification label affixed to the appliance always overrides the information published in any other media (owner's manual, catalogues, flyers, magazines and/or web sites).
** Some appliances have been tested with a low ceiling. Before setting up your unit, refer to the installation manual.
Frequently Bought Together:
DIY Center
(AKA 'The Rockford Files')
From video tutorials to product walkthroughs, we have a variety of DIY resources just for you! Click the button below to view our entire library.
Need Help?
We are here to answer all of your questions
OR

Our 316Ti flexible chimney liner and chimney liner components have passed the rigorous testing at the Underwriters Laboratories with best in class status and are UL Listed. So if you are looking for UL listed chimney liner sold directly to homeowners, then look no further than Rockford Chimney