DuraVent Direct Vent Horizontal Installation Kit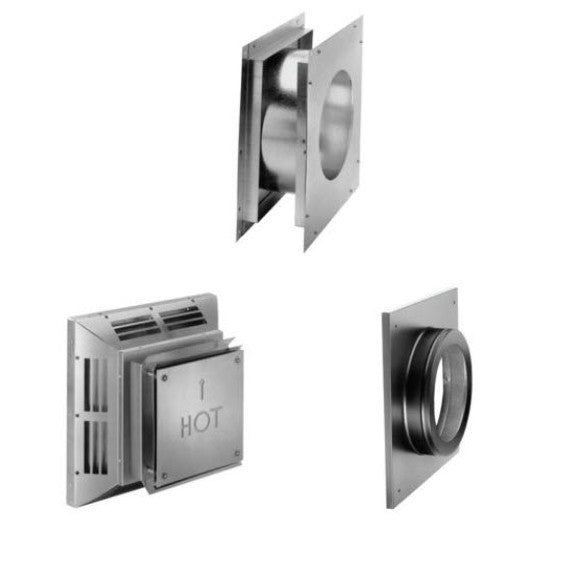 DuraVent Direct Vent Horizontal Installation Kit
DuraVent Direct Vent Horizontal Installation Kit
Product Details:
The DuraVent Direct Vent Pro Horizontal Installation Kit includes all the necessary parts required for standard horizontal venting. You will just need the direct vent pipes and or pipe elbows to finish the installation. Horizontal venting for a direct vent gas or propane stove or fireplace can be much easier to install than venting through the roof. The horizontal installation kit comes with the wall thimble, the thimble finish cover plate and the horizontal high wind chimney cap.

Optional vinyl siding standoff is available for homes with vinyl siding.
This kit is only compatible with DuraVent direct vent pro pipes and components.
Base Kit Included Component Details
Wall Thimble
The DuraVent Direct Vent Pro Wall Thimble is used for horizontal venting to provide a safe passageway through the side of the home. The Wall Thimble is able to adjust to varying wall thicknesses. The thimble will only work with the Square High Wind Horizontal Vent Cap.
Thimble Finish Cover Plate
The wall thimble cover plate is a decorative cover for the wall thimble. The cover comes with an insulated ring to reduce any infiltration through the wall. The cover plate measures 13" x 13" and extends into the room 2". The black finish will match the black piping.

Horizontal High Wind Chimney Cap
The DuraVent Direct Vent Pro Square Horizontal Termination Cap is used for horizontal venting termination cap. The cap allows for the air intake and the exhaust without the exhaust gas mixing with the fresh air intake. Used for standard and high-wind installations. Check with the appliance manufacturer's installation instructions for the minimum distance the termination cap can be from objects such as windows and doors.
Optional Component Details
Vinyl Siding Standoff
The DuraVent Direct Vent Pro Vinyl Siding Standoff is used for horizontal venting applications where temperature sensitive material is near the horizontal vent cap, such as vinyl, shiplap, shake shingle, etc. This will prevent any warping or melting to vinyl siding. Use with the Square Horizontal Vent Vap only.
Frequently Bought Together:
DIY Center
(AKA 'The Rockford Files')
From video tutorials to product walkthroughs, we have a variety of DIY resources just for you! Click the button below to view our entire library.
Need Help?
We are here to answer all of your questions
OR

Our 316Ti flexible chimney liner and chimney liner components have passed the rigorous testing at the Underwriters Laboratories with best in class status and are UL Listed. So if you are looking for UL listed chimney liner sold directly to homeowners, then look no further than Rockford Chimney