Endless Summer Chesapeake LP Gas Outdoor Fire Pit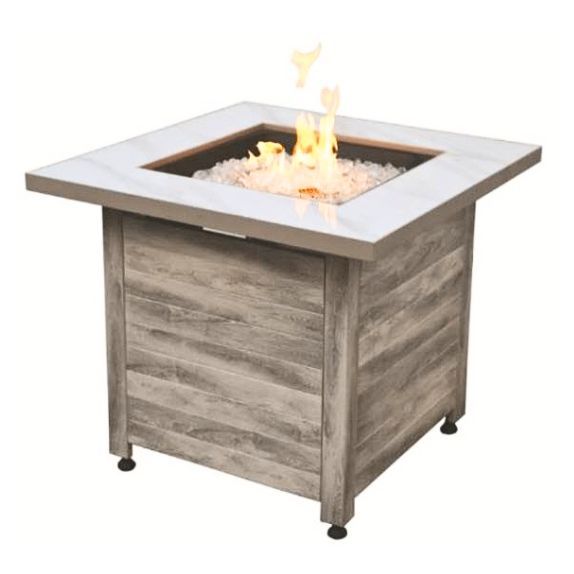 Endless Summer Chesapeake LP Gas Outdoor Fire Pit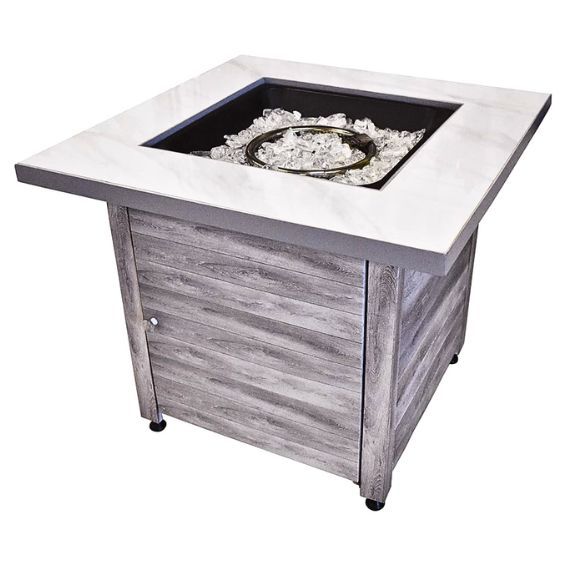 Endless Summer Chesapeake LP Gas Outdoor Fire Pit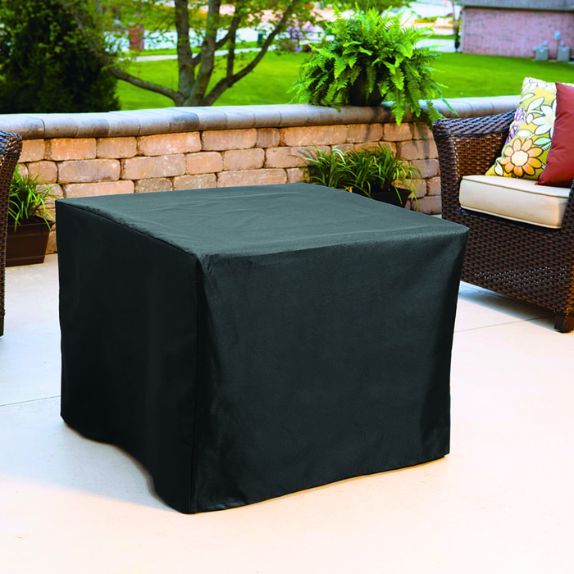 Endless Summer Chesapeake LP Gas Outdoor Fire Pit
Description:
50,000 BTU burner with stylish faux marble table top with white fire glass. Table insert included.
Product Details:
The Chesapeake LP Gas Outdoor Fire Pit offers an ultra stylish and contemporary look with a faux marble table top and the wood grain printed steel base. The combination of the white top and the grey wood pattern is truly in a class of its own. Add in the white fire glass that surrounds the burner and you have the brightest outdoor fire pit available. The 50,000 BTU burner produces an impressive flame while also taking the chill out on those brisk spring and fall evenings. The faux marble table top sits on a stylish modern steel base with a faux wood pattern.
The base conceals a standard 20 lb propane tank as well as the easy to light ignition and the control knob that allows you to adjust the flame height and heat output. A steel table insert is included to transform the fire pit into a functional table when not being used. The table insert can be conveniently stored in the cabinet on the inside of the door. A protective cover is also included to protect the fire pit from the harshest weather. Choose the Chesapeake LP gas Fire Pit for a one of a kind model that is sure to turn heads and be the focal point of your outdoor living space. The Chesapeake Fire Pit will match brighter and more modern patio furniture.
Note: The Outdoor Fire Pit, from the factory, is for use with LP gas only. The conversion to or attempted use of natural gas in this outdoor fire pit is dangerous, may cause bodily harm and will void your warranty.
Frequently Bought Together:
DIY Center
(AKA 'The Rockford Files')
From video tutorials to product walkthroughs, we have a variety of DIY resources just for you! Click the button below to view our entire library.
Need Help?
We are here to answer all of your questions
OR

Our 316Ti flexible chimney liner and chimney liner components have passed the rigorous testing at the Underwriters Laboratories with best in class status and are UL Listed. So if you are looking for UL listed chimney liner sold directly to homeowners, then look no further than Rockford Chimney