Flat Top Plate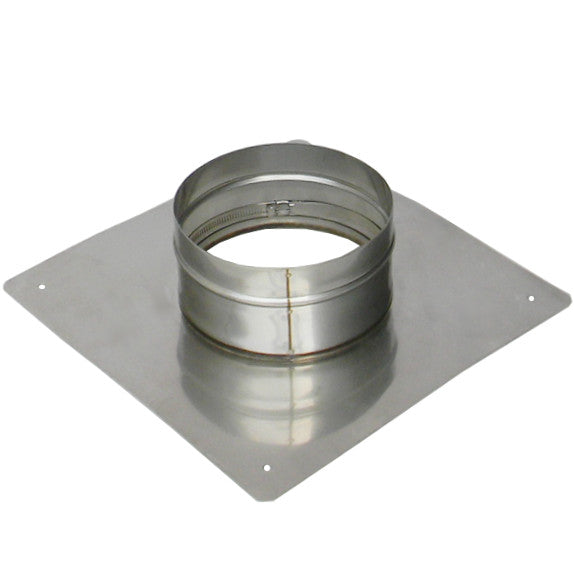 Flat Top Plate
Flat Top Plate
Description:
For chimney tops that need a custom fit, we offer our flat top plate. No clamps, flashing, or storm collars...
Product Details:
For those chimney tops that need to be custom fitted, we offer our Flat Top Plate. No clamps, flashing, or storm collars needed. Just pull our flexible stainless steel liner through the collar and tighten the quick connector band. The Flat Top Plate features our quick-connect band to securely support the weight of the liner while also keeping rain, wind, and snow out of the existing flue. Simply trim the top plate to fit with a pair of snips and it's ready for installation. All Flat Top Plates are fabricated with 24 gauge stainless steel. You may prefer to use a high-temp silicone to apply the top plate to the flue and to keep it water tight (optional accessory).
The Flat Top Plate is available in four plate sizes: 13" x 13", 13" x 18", 18" x 18" and 24" x 24" and is available for 3" thru 18" diameter flexible liners. Need a larger size, call us for a quote!
See our Top Plate & Chimney Cap Options Product Overview for a detailed explanation of each option.
Frequently Bought Together:
DIY Center
(AKA 'The Rockford Files')
From video tutorials to product walkthroughs, we have a variety of DIY resources just for you! Click the button below to view our entire library.
Need Help?
We are here to answer all of your questions
OR

Our 316Ti flexible chimney liner and chimney liner components have passed the rigorous testing at the Underwriters Laboratories with best in class status and are UL Listed. So if you are looking for UL listed chimney liner sold directly to homeowners, then look no further than Rockford Chimney