Napoleon Cineview Electric Fireplace
Napoleon Cineview Electric Fireplace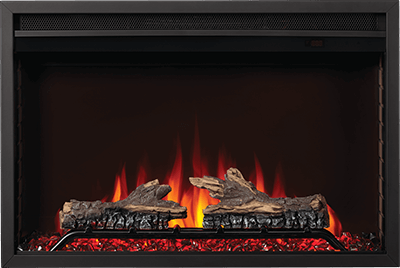 Napoleon Cineview Electric Fireplace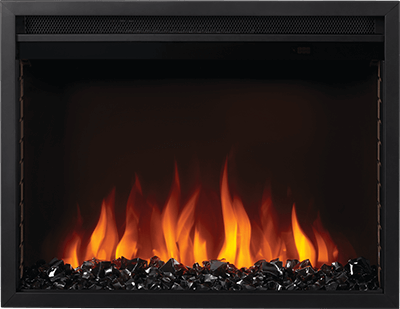 Napoleon Cineview Electric Fireplace
Napoleon Cineview Electric Fireplace

Napoleon Cineview Electric Fireplace

Napoleon Cineview Electric Fireplace

Napoleon Cineview Electric Fireplace
Description:
The perfect option to be installed as a fireplace insert.Available in 26" and 30" sizes.3 flame color options and 7...
Product Details:
The Napoleon Cineview Series Electric Fireplace is offered in 26" and 30" sizes and is ideally used as a fireplace insert. The optional 4pc trim is available for easy sealing around the electric fireplace and the masonry fireplace opening. It's not a problem if you do not have a fireplace, the Cineview electric fireplace can be inserted into a mantel surround or built in the wall with self trimming flanges for a clean built in appearance. Installation is simple with plug in or hardwire to 120V / 1,500 Watts. It produces up to 5,000 BTUs which is perfect for heating medium sized rooms up to 400 square ft. The Cineview fireplace offers BOOST Mode that turns the heater to maximum heat while also increasing the blower speed to heat the space more quickly. Once the space is heated, you can switch to ECO Mode that turns the heater to medium which consumes half the energy.
The Cineview comes standard with the Burnt Oak Log Set and crystal media to give the fireplace the look of a natural wood burning fireplace without the mess of burning wood. Choose between orange, blue and combined multi color flame options and 7 ember bed color options. The touch screen control panel is easy to use and allows you to customize the look of the fireplace for any occasion or season. The adjustable flame speed and brightness makes the Cineview one of the most customizable electric fireplaces on the market. The Napoleon Cineview electric fireplace is one of the more versatile fireplace available and will make a great choice for any home.
Specifications & Manual
Napoleon Cineview Electric Fireplace Manual
Napoleon Cineview Electric Fireplace Specifications
Napoleon Cineview Series Electric Fireplace Specifications
Voltage
120V
Watts
1465W
Amps
Dedicated 15 AMP Grounded Circuit
Appliance Height
20 5/16"
Appliance Depth
7 3/4"
Appliance Width
Cineview 26"
26"
Cineview 30"
30"
Appliance Weight
Cineview 26""
37.5 lbs
Cineview 30"
41.9 lbs
Frequently Bought Together:
DIY Center
(AKA 'The Rockford Files')
From video tutorials to product walkthroughs, we have a variety of DIY resources just for you! Click the button below to view our entire library.
Need Help?
We are here to answer all of your questions
OR

Our 316Ti flexible chimney liner and chimney liner components have passed the rigorous testing at the Underwriters Laboratories with best in class status and are UL Listed. So if you are looking for UL listed chimney liner sold directly to homeowners, then look no further than Rockford Chimney