Direct Vent Gas Stove - Napoleon GDS60 Knightsbridge
Direct Vent Gas Stove - Napoleon GDS60 Knightsbridge
Direct Vent Gas Stove - Napoleon GDS60 Knightsbridge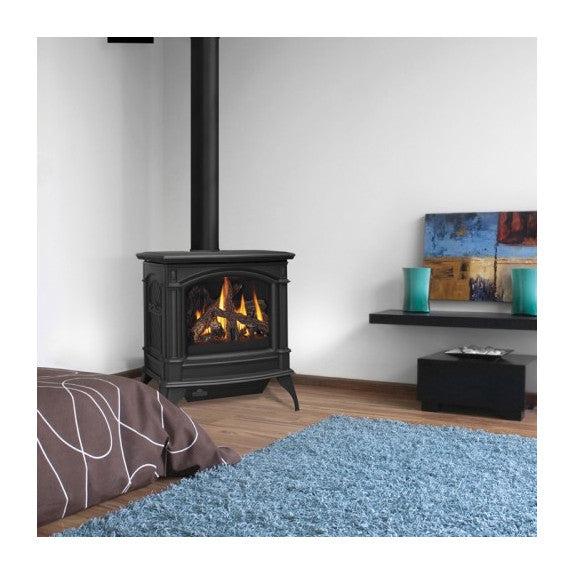 Direct Vent Gas Stove - Napoleon GDS60 Knightsbridge
Product Details:
Napoleon's GDS60 has always been successful and in popular demand for its solid performance and impressive heating efficiencies. The GDS60 comes standard with Napoleon's PHAZER® log set, glowing embers, anti-condensation switch (controls pilot usage for cold climate installations) and electronic ignition with battery back-up. With its larger viewing area and new elegant fine detailing and sleek, more sophisticated outer casting design, the GDS60 now offers much more than its original superior capabilities.
GDS60 Specifications & Manual
Specifications: GDS60 Direct Vent Gas Stove
Fuel
Natural Gas or Propane
BTU Input
35,000
Efficiencies (AFUE)
72%
Glass Type
Ceramic
Blower kit
Optional
Mobile Home Approved
Yes
Additional Information
Direct vent model requires no chimney, it vents conveniently through a wall or roof and uses outside combustion air
Approved for bathroom (direct vent only) bedroom, bed-sitting room and basement installations
Suitable for mobile home installation
B-vent adapter kit conveniently modifies the direct vent stove into a conventional B-vent unit
Installs safely on any floor, even carpet and vents up to 20 ft. horizontally and up to 40 ft. vertically
Tested to ANSI Z21.88 and CSA 2.33 for vented gas fireplace heaters
Napoleon GDS60 Gas Stove Product Manual
UNIT INCLUDES: ELECTRONIC IGNITION GAS VALVE WITH BATTERY BACK-UP AND EXCLUSIVE ACS (ANTI-CONDENSATION SWITCH), ON/OFF SWITCH BUILT-IN ADJUSTABLE FLAME HEAT CONTROL, EXCLUSIVE PHAZER™ LOG SET AND GLOWING EMBERS, CAST IRON DOOR WITH CERAMIC GLASS. DIRECT VENT - BATHROOM/BEDROOM/BEDSITTING ROOM/MOBILE HOME APPROVED. UP TO 35,000 BTUS.
NOTE: All units are natural gas. If propane is required - please order conversion kit.
Frequently Bought Together:
DIY Center
(AKA 'The Rockford Files')
From video tutorials to product walkthroughs, we have a variety of DIY resources just for you! Click the button below to view our entire library.
Need Help?
We are here to answer all of your questions
OR

Our 316Ti flexible chimney liner and chimney liner components have passed the rigorous testing at the Underwriters Laboratories with best in class status and are UL Listed. So if you are looking for UL listed chimney liner sold directly to homeowners, then look no further than Rockford Chimney