Papyrus Fireplace Tool Set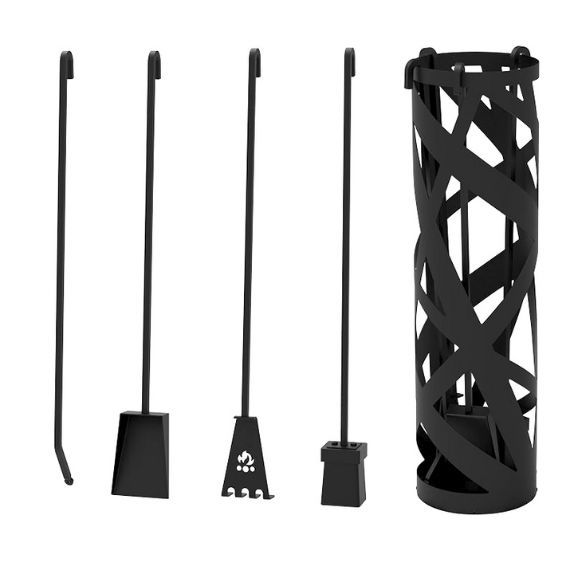 Papyrus Fireplace Tool Set
Description:
Contemporary 4 piece fireplace tool set contains poker, broom, shovel and scraper with basket rack
Product Details:
The Papyrus Fireplace Tool Set includes everything you need to operate and maintain a fire in a wood burning fireplace or a wood burning stove. The contemporary design is sure to catch the eye of anyone that is near it. The unique basket rack will ensure no soot or ash gets on any of the surrounding areas keeping all of it inside the basket. The thick steel construction and black finish is sure to last for many years. If you are looking for an easier way to manage your fires in either a fireplace or a wood stove the Papyrus Fireplace Tool Set is the perfect solution for any hearth.

The Papyrus Fireplace Tool Set includes a poker, rake, broom, shovel and basket rack. The fireplace poker allows you to manage the log position easily in the firebox. The included rake allows you to easily rake the coals when the fire dies down to give yourself a good coal base to load in more wood in the fireplace or stove. The fireplace broom helps brush all the ash out of the nooks and crannies of the firebox floor for a quick and easy cleaning. Lastly the toolkit includes a fireplace shovel which makes easy work of removing the ash from the firebox. The length of each tool measures 19 1/2" long to ensure your hands are far enough away from the firebox to avoid burns while tending to the fire. The basket rack measures 7 1/2" in diameter and each tool easily hooks to the top edge of the basket rack.
Frequently Bought Together:
DIY Center
(AKA 'The Rockford Files')
From video tutorials to product walkthroughs, we have a variety of DIY resources just for you! Click the button below to view our entire library.
Need Help?
We are here to answer all of your questions
OR

Our 316Ti flexible chimney liner and chimney liner components have passed the rigorous testing at the Underwriters Laboratories with best in class status and are UL Listed. So if you are looking for UL listed chimney liner sold directly to homeowners, then look no further than Rockford Chimney