Probe Thermometer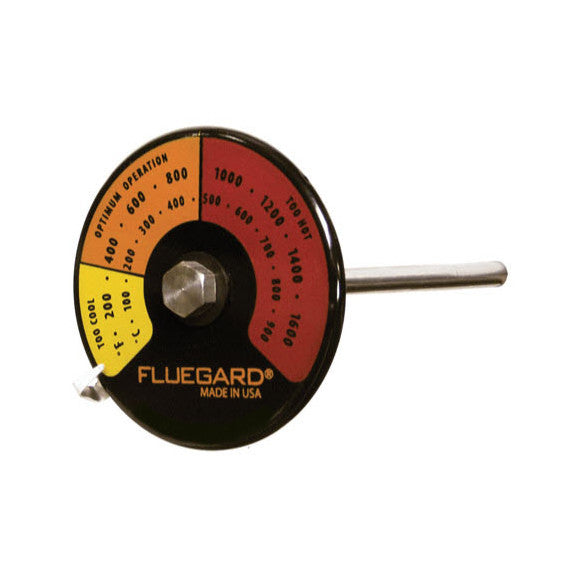 Probe Thermometer
Description:
The premium probe thermometer for use on double wall black stove pipes (not Class A pipes). Durable porcelain enamel with...
Product Details:
The premium probe thermometer for use on double wall black stove pipes (not Class A pipes). Our probe thermometer is fabricated in three layers: high temperature steel core for longevity, clad with pure copper for fast conductivity, and chrome-pleted to resist corrosion. Durable porcelain enamel with yellow, orange, and red zones clearly indicated—shows temperature inside the flue pipe at a glance. 4-inch stem engineered to accurately measure temperatures up to 1700° Fahrenheit, for any diameter flue pipe up to 8 inches. Rugged steel case. Mounts easily through a 1/4 inch hole. Magnet and eyelet included. Made in USA. *Note: Not recommended for single wall pipe.
Directions for Use
Probe thermometers are designed for insertion into the stovepipe, with the end of the probe approximately centered inside the flue for accurate readings.
To install, drill a 1/4-inch hole in the flue pipe at least 18 inches above the top of the stove or furnace. For double-wall pipe, drill a 1/4-inch hole in the outer wall, and a 3/16-inch hole through the inner wall. Position so the thermometer can be read easily at a glance. Slide the eyelet and magnet onto the stem of the thermometer; and insert into the hole.
When properly installed, the thermometer accurately reads flue-gas temperatures with an error margin less than 5%. If placed closer than 18 inches from the top of your stove or furnace, the thermometer will read slightly higher. Creosote on the stem of the thermometer will have little effect on the readings. When used on horizontal stovepipes, add 6% to temperature readings due to lower heat transfer. Before cleaning your flue pipe, remember to remove the thermometer.
Guidelines for Probe Thermometer Temperature Readings
Consult your stove manufacturer's manual for precise temperature recommendations. See below for approximate guidelines, if the thermometer is installed properly on the flue pipe. Note that flue gas readings are approximately 50% higher than surface temperature readings:
100°F to 400°F: Temperature too low. Incomplete combustion, causing smoke, soot and hazardous creosote. Open draft and/or add dry fuel.
400°F to 900°F: Safe operating temperature. Complete combustion and best efficiency.
900°F to 1600°F: Wasting energy, possibly overheating. While high temperatures are often reached on initial firing, should not be maintained for normal operation. Reduce draft.
Frequently Bought Together:
DIY Center
(AKA 'The Rockford Files')
From video tutorials to product walkthroughs, we have a variety of DIY resources just for you! Click the button below to view our entire library.
Need Help?
We are here to answer all of your questions
OR

Our 316Ti flexible chimney liner and chimney liner components have passed the rigorous testing at the Underwriters Laboratories with best in class status and are UL Listed. So if you are looking for UL listed chimney liner sold directly to homeowners, then look no further than Rockford Chimney