Chimney Liner Kits - Round, Stainless Steel, Flexible Liner Kits
Chimney Liner Kits - Round, Stainless Steel, Flexible Liner Kits
Chimney Liner Kits - Round, Stainless Steel, Flexible Liner Kits
Chimney Liner Kits - Round, Stainless Steel, Flexible Liner Kits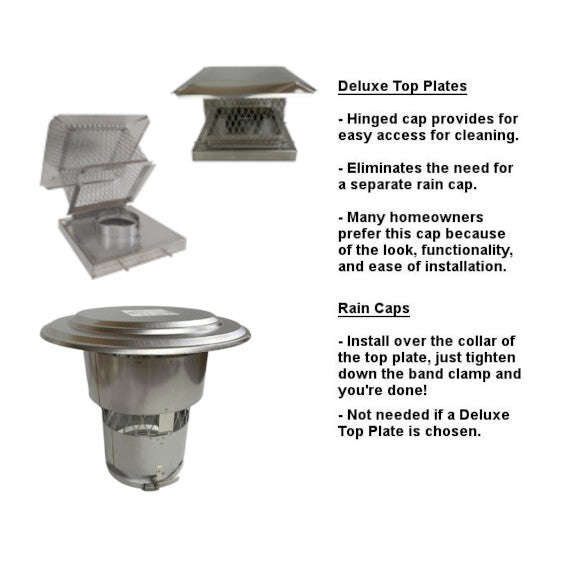 Chimney Liner Kits - Round, Stainless Steel, Flexible Liner Kits
Description:
Build Your Own Kit: Rock-Flex 316Ti Flexible Stainless Steel Chimney Liner & Components KitApplications: Installed in a masonry chimney venting Wood,...
Product Details:
316Ti Stainless steel fireplace liners are used with fuel types such as wood, pellet, gas, oil, and coal.
Each Rockford Chimney Liner Kit Includes:
316Ti Stainless Steel Chimney Liners - Air and water tight, with 7 ply seams and 10 corrugations per seam for the very best flexibility and strength on today's market. Rated number one in the industry for strength and flexibility. UL Listed and made of the highest quality, hand picked, prime stainless steel made in the United States.
Rain Cap - Quick connect round top cap with a screen enclosure to keep critters and debris out. The round cap has a wind guard to protect against downdrafts.
Connectors - Quick connecting tee with a removable horizontal snout for easy installation through your chimney thimble. Or a quick connecting liner to stove vertical appliance connector. (If you're connecting vertically to the top of your appliance you will most likely need the liner to stove connector. If you're connecting or exiting the chimney horizontally you will most likely need the tee and tee clean out.) If you have a pellet stove and need a 3" to 4" tee simply choose it in the options above. To see the different types of bottom connectors click on the yellow, green, blue, and red pictures above.
Top Plate - No Sag top plate featuring the quick connect system, so strong you can stand on it and it will not sag! Or a perfect fitting Quick Connect flat or terra-cotta top plate. Simply make your choice using the drop down window below.
Complete installation instructions - DIY stainless steel metal chimney liners installed the easy way! Most installations will take no more than 2 to 3 hrs. No rivets or clamps required.
Warranty - Lifetime Forever transferable chimney liners warranty.
Support - Free 6 days a week toll free phone support.
We offer the best protection for you and your home. Air and water tight chimney liners, seven ply seams that lock moisture and flue gases in the flexible flue liner which keeps them from leaking into the home.
Guards Against Corrosion - Certified Rock Flex stainless steel chimney liners protect against hostile acids which deteriorate masonry clay tile chimneys.
What About Creosote? - Rockford chimney flue liners do not allow creosote to leach through the liner unlike masonry, clay tile flues, or liners not made of prime stainless. Creosote can catch fire, thanks to Rock Flex this harmful creosote is minimized.
Seals Off Carbon Monoxide - When it comes to safety our flexible chimney liners will protect the structure of your home from moisture damage and the very real potential of carbon monoxide poisoning.
UL Listed in the USA and CANADA - Our stainless steel flue liners and components are UL tested and listed to UL1777 standard, Underwriter Laboratories. UL is the leader and most recognized in the United States, don't settle for less.
Lifetime Transferable Warranty - The best warranty anywhere, transferable to new homeowner if you decide to sell. You're going to feel good about this purchase, plus you're adding value to your home.
316Ti Liners - A unique titanium alloy designed to resist flue acids and the extreme stresses of hot and cold cycles. It can withstand multiple heating cycles up to 2100 degrees.
Rockford carries a complete selection of chimney liner supplies. Our hearth liner kits, chimney liner Insulation kits, and all chimney lining kit components are premium stainless-steel, they are 100 percent manufactured in the USA. Buy chimney liners online at Rockford Chimney Supply and you are guaranteed to be getting the best chimney liner supply and lining system available. Our service, price, & quality is unmatched, anywhere.
Canadian customers can use our US Border Depots to save on shipping.
Frequently Bought Together:
DIY Center
(AKA 'The Rockford Files')
From video tutorials to product walkthroughs, we have a variety of DIY resources just for you! Click the button below to view our entire library.
Need Help?
We are here to answer all of your questions
OR

Our 316Ti flexible chimney liner and chimney liner components have passed the rigorous testing at the Underwriters Laboratories with best in class status and are UL Listed. So if you are looking for UL listed chimney liner sold directly to homeowners, then look no further than Rockford Chimney