Selkirk 4 in. Black Ceiling Support Box
Product Images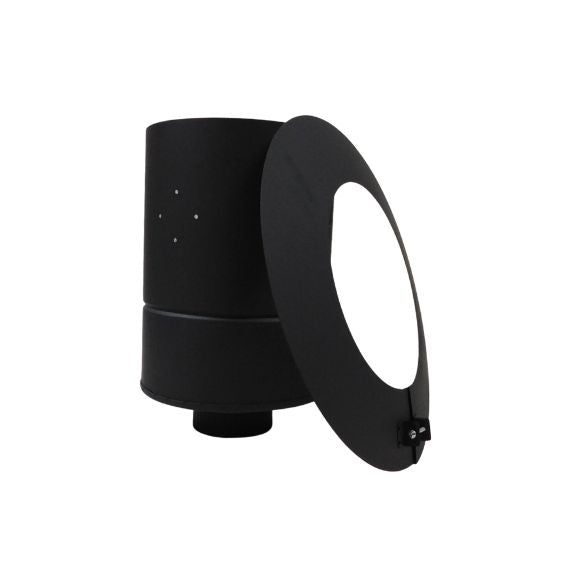 Ceiling Support Box
Ceiling Support Box Trim Collar
Description:
The 4" Selkirk Black Flat Ceiling Support Box is used to support the class A chimney pipe when passing through...
Product Details:
The 4" Selkirk Black Flat Ceiling Support Box is installed between the ceiling joist for a flat ceiling and is used to support the vertical chimney pipe above the ceiling. The Ceiling Support is able to support up to 50' of vertical chimney pipe.
The Flat Ceiling Support Box is a round design and comes with a trim collar for concealing the hole you cut in the ceiling for a finished look. The high temperature finish will match your 4" single wall black stove pipe. The Class A chimney pipe cannot pass through the support box.
To install cut a 10" x 10" hole between two ceiling joists and mount the ceiling to support the ceiling joist. Once the support box is installed at the ceiling, you must use the Selkirk Chimney Pipe Adapter to transition to a single wall stove pipe for below the box.

Frequently Bought Together:
DIY Center
(AKA 'The Rockford Files')
From video tutorials to product walkthroughs, we have a variety of DIY resources just for you! Click the button below to view our entire library.
Need Help?
We are here to answer all of your questions
OR

Our 316Ti flexible chimney liner and chimney liner components have passed the rigorous testing at the Underwriters Laboratories with best in class status and are UL Listed. So if you are looking for UL listed chimney liner sold directly to homeowners, then look no further than Rockford Chimney