Shepherd's Hook III 5 Piece Fireplace Tool Set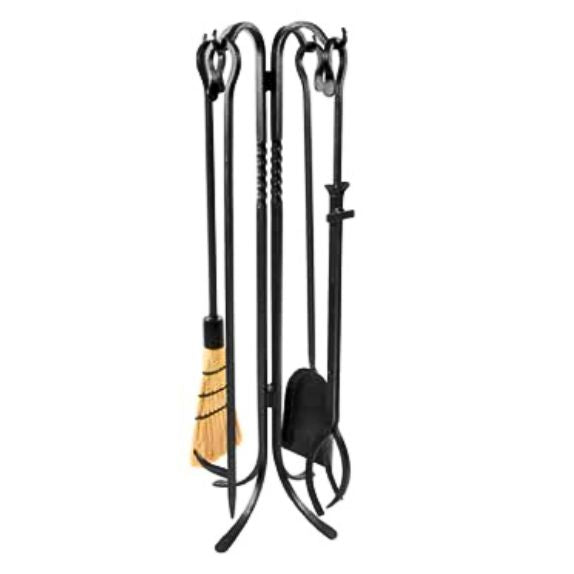 Shepherd's Hook III 5 Piece Fireplace Tool Set
Description:
Includes: Tool stand, fireplace poker, fireplaces tongs and fireplace broom. Wrought iron construction with powder coat black finish.
Product Details:
The Shepherd's Hook III 5 Piece Fireplace Tool Set provides all the essential tools necessary to operate and maintain any wood burning fireplace or wood burning stove. The wrought iron construction is made to last and the powder coated finish black finish is capable of standing up to the heat of the fire. The length of each tool is 26.5" to make sure your hands are far enough away from the hot fire so your hands do not get burned when servicing the fire. The Shepherd's Hook III tool set will also add a decorative element that will look great next to any hearth.

Included with the Tool Set:
Twisted Rope Stand
The sleek Twisted Rope Stand allows you to easily remove and place the tools on the stand, while also organizing the tools in a decorative manner.
Fireplace Poker
The Fireplace Poker is helpful for stoking the fire as well as spreading the coals for when you need to reload the firebox.
Fireplace Tongs
The Fireplace Tongs make easy work of maneuvering a log into the ideal position when fully loading the firebox.
Fireplace Shovel
The Fireplace Shovel makes easy work of removing the ashes from the floor of the firebox.
Fireplace Brush
The Fireplace Brush helps get in the small nooks and crannies of the mortar joints to ensure all the ash is removed from the firebox. The natural sorghum bristles of the brush are perfect for sweeping wood ash.
Optional Accessories
Hearth and Fireplace Gloves
The optional Hearth and Fireplace Gloves make a great addition to the Shepherd's Hook III Tool Set. The high temperature gloves can withstand temperatures of up to 932 degrees Fahrenheit. This will provide an additional layer of safety when you are servicing or maintaining the fire. The long sleeves will ensure your forearms are sufficiently protected when you are reaching in the firebox with the tool set. These gloves are a must have for anyone who is burning wood. The gloves can also be used in virtually any other application that deals with handling high temperature items.
Frequently Bought Together:
DIY Center
(AKA 'The Rockford Files')
From video tutorials to product walkthroughs, we have a variety of DIY resources just for you! Click the button below to view our entire library.
Need Help?
We are here to answer all of your questions
OR

Our 316Ti flexible chimney liner and chimney liner components have passed the rigorous testing at the Underwriters Laboratories with best in class status and are UL Listed. So if you are looking for UL listed chimney liner sold directly to homeowners, then look no further than Rockford Chimney