Trivista Series 3-sided Linear Electric Fireplace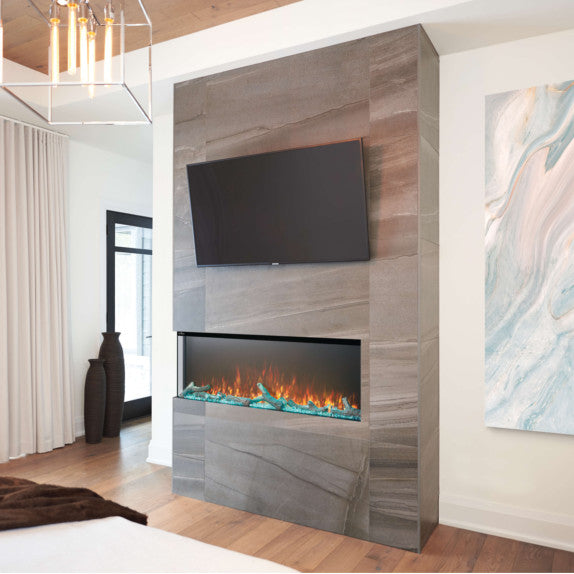 Trivista Series 3-sided Linear Electric Fireplace
Trivista Series 3-sided Linear Electric Fireplace
Trivista Series 3-sided Linear Electric Fireplace
Trivista Series 3-sided Linear Electric Fireplace
Trivista Series 3-sided Linear Electric Fireplace
Trivista Series 3-sided Linear Electric Fireplace
Trivista Series 3-sided Linear Electric Fireplace
Description:
Napoleon's unique Trivista Series electric fireplace features three, two, or one sided installation capabilities. Easily manage heat output, lighting, media...
Product Details:
The Trivista electric fireplace series is available in two size options including 50" and 60". This beautiful three-sided electric fireplace is sleek and complements any type of decor with its Northern Woods logset, acrylic crystals, or combine both! Enjoy the ambiance year round with or without the heat output. When using the heat output, you will experience up to 10,000 BTUs to heat your living space.

Although the Trivista electric fireplace is advertised as a unique three-sided style, it can also be installed as a two-sided or one-sided electric fireplace. The end panels come included and allow for 3, 2, or 1 sided installs.
Included with the fireplace unit are installation instructions and easy to use multi-function remote. Simply control all features by using the remote control or the touch screen panel with motion proximity sensor. Settings include flame color, flame height, brightness, heat on/off, thermostatic control, and more.
Frequently Bought Together:
DIY Center
(AKA 'The Rockford Files')
From video tutorials to product walkthroughs, we have a variety of DIY resources just for you! Click the button below to view our entire library.
Need Help?
We are here to answer all of your questions
OR

Our 316Ti flexible chimney liner and chimney liner components have passed the rigorous testing at the Underwriters Laboratories with best in class status and are UL Listed. So if you are looking for UL listed chimney liner sold directly to homeowners, then look no further than Rockford Chimney