Selkirk Wall Support Kit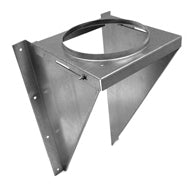 Selkirk Wall Support Kit
Description:
The Wall Support Kit has been tested for use fully enclosed and has been designed in 6" , 7" and...
Product Details:
The Wall Support is intended for use with the Insulated Tee as an interior or exterior support where the chimney has a lateral connection. It is also useful where the pipe connection passes through a combustible interior or exterior wall. Braces may be fastened to the wall either above or below the plate for chimneys which penetrate through the wall. Provides 2" to 6" adjustment from the vertical wall.

Frequently Bought Together:
DIY Center
(AKA 'The Rockford Files')
From video tutorials to product walkthroughs, we have a variety of DIY resources just for you! Click the button below to view our entire library.
Need Help?
We are here to answer all of your questions
OR

Our 316Ti flexible chimney liner and chimney liner components have passed the rigorous testing at the Underwriters Laboratories with best in class status and are UL Listed. So if you are looking for UL listed chimney liner sold directly to homeowners, then look no further than Rockford Chimney