Lock Top Energy Saving Damper Operating Instructions
July 19, 2023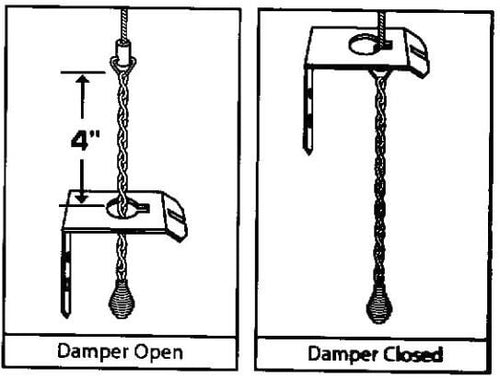 How to Operate a Lock Top Chimney Damper
To Open Before Lighting A Fire: Pull the damper handle down slightly and release, allowing the lug to pull up and hang freely about 4" above the bracket (see illustration). If lug only hangs 1" to 2" above bracket, damper may not be open.

Warning: Do not start a fire if damper is not clearly open. Failure to follow this rule may result in smoke damage.
To Close After Fire is Completely Out: Pull the handle down until the lug is below the bracket. Move cable into either notch in the bracket and release handle.

Energy-saving note: Closing the damper when fireplace is not in use will prevent heated or air-conditioned air from escaping out the chimney.
Notice Regarding Chimney Fires: This Lock-Top energy-saving damper is equipped with a Chimney Fire Safety Device. If a fire occurs in your chimney which creates intense heat near the Lock-Top damper, the Chimney Fire Safety Device will keep the damper open to allow the smoke and combustion gases of the chimney fire to exit. If this occurs, it will be impossible to close the damper from within your home. The chimney damper may be able to be reset to operational status or may need to be replaced.

Gas appliance warning: If the fireplace is converted to use as a gas appliance such as gas logs, this damper should be removed.
Lock Top Chimney Damper Product Info
DIY Center
(AKA 'The Rockford Files')
From video tutorials to product walkthroughs, we have a variety of DIY resources just for you! Click the button below to view our entire library.
Need Help?
We are here to answer all of your questions
OR

Our 316Ti flexible chimney liner and chimney liner components have passed the rigorous testing at the Underwriters Laboratories with best in class status and are UL Listed. So if you are looking for UL listed chimney liner sold directly to homeowners, then look no further than Rockford Chimney