About Napoleon Electric Fireplaces
July 19, 2023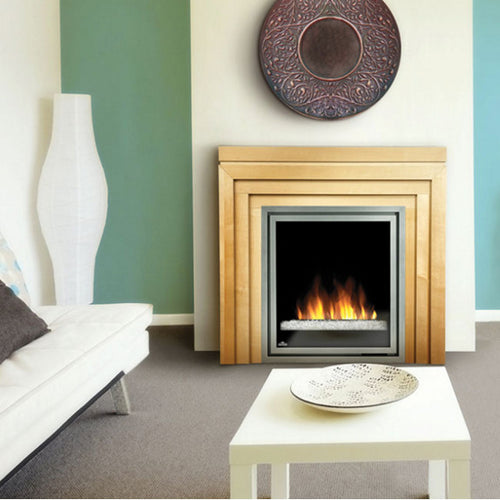 Never Climb On Your Roof Again with a Napoleon Electric Fireplace
Create endless design possibilities by installing a Napoleon Electric Fireplace in minutes. An electric fireplace is a perfect solution to add calming aesthetics of a fireplace without the need for venting. Match any decor with a variety of styles provided by Napoleon. Accent for your living room, bedrooms, bathrooms, kitchen, entrance ways, office, or bar area, anywhere there is a power outlet.
The Heated Facts on Electric Fireplaces
Electric fireplaces will add value to your home, while giving you added comfort and a reliable source of heat. They run on 120 volts, with a maximum draw of 1500 watts, with heat output up to 5000 BTU's. That's enough heat to take the chill off an area of approximately 400 square feet! Operational cost for electric fireplaces starts at 3 cents per hour when only activating the flames, and no heat. Setting the temp to a mid range you can expect to pay about 9 cents per hour, and at full heat, about 18 cents per hour.
Electric fireplaces not only have colorful, realistic flickering flames, but they also deliver heat that is clean, safe and without any soot, gases or smoke being produced. There are no carbon monoxide fumes with an electric fireplace, so there's no venting of flue gases, exhaust pipes or vents required, unlike gas and wood burning fireplace requirements. The glass front will remain cool, and is safe to the touch, making an electric fireplace safe for children and pets. These fireplaces are hassle free, just plug and go, compared to gas or wood burning fireplaces or inserts.
Electric Fireplace Styles
There are 2 styles to choose from. The traditional style electric fireplace units will have you guessing whether it is truly a wood burning fire, with ultra bright LED lights with in the log set and ember bed.
Or, if you wish for a more modern focal point, there are wall mounted units. Napoleon's wall hanging electric fireplaces offer clean, crisp contemporary designs with the conveniences of simply hanging, plugging in and enjoying. These units range from 38" width to 100" wide and will free up floor space and and still produce additional warmth to your home. Some models even allow you to recess the fireplace into the wall!
Napoleon's Electric Fireplace units can be installed anywhere without any structural additions, only requiring a 120 volt electrical outlet, and all units have hand held remote capabilities. These fireplaces can also be operated with or without the heater function, so they can be used all year long. Shop for your Napoleon Electric Fireplace today!
Allure Series Electric Fireplace Video
DIY Center
(AKA 'The Rockford Files')
From video tutorials to product walkthroughs, we have a variety of DIY resources just for you! Click the button below to view our entire library.
Need Help?
We are here to answer all of your questions
OR

Our 316Ti flexible chimney liner and chimney liner components have passed the rigorous testing at the Underwriters Laboratories with best in class status and are UL Listed. So if you are looking for UL listed chimney liner sold directly to homeowners, then look no further than Rockford Chimney