Choosing Your Wood Stove: Convection vs. Radiant
July 19, 2023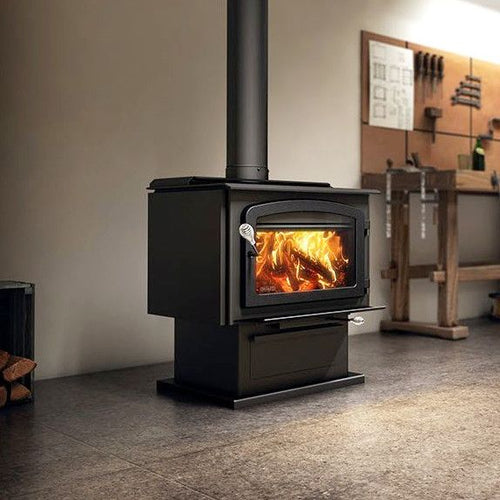 Simply put, convection stoves heat the air, where radiant stoves will heat nearby objects. All of our wood stoves are considered convection and efficient.
A convection style stove heats and circulates warm air around a room, similar to a forced-air furnace. The air can be heated simply by being in contact with the hot outer surface of the heater, or by being drawn into the extra side and back panels which forms a spacing channel between the outer panel and the fire box walls of the stove. Most of these stoves have fans to assist the distribution of heated air through the room. Convection stoves are designed to distribute heat a lot more evenly around the room.
A radiant stove emits heat from the front; sides and top. The heat travels in straight lines from the stove, and is absorbed by any surface it encounters. They have been used for many years and are by far the most popular type of stove.
Ultimately, the air in the room gets heated through contact with the hot stove and surrounding heated surfaces, and a warm room temperature is achieved. Because walls interfere with the flow of radiant energy, radiant stoves do not heat adjacent rooms well.
A convection stove:
is much safer if you have small children because the side plates that draw in cold air stay much cooler than that of a radiant stove.
is much better at giving out even and comfortable heat into the room.
is also extremely good if you wish to heat adjoining rooms.
A radiant stove:
typically an old, big stove
heats people and objects directly.
gives uneven, "localized" heat within a room.
has extremely hot surfaces and can be hazardous, particularly for young children and the elderly.
Most of today's stoves are a combination of convection and radiant heaters. In other words, most radiant stoves have built-in convection tubes or chambers and/or at least one convection panel at the rear heat shield, and most convection stoves have one or more direct radiant surfaces on the top plate and door. You'll want to choose a model that is primarily the type that will work best in your situation.
Popular Convection Models
DIY Center
(AKA 'The Rockford Files')
From video tutorials to product walkthroughs, we have a variety of DIY resources just for you! Click the button below to view our entire library.
Need Help?
We are here to answer all of your questions
OR

Our 316Ti flexible chimney liner and chimney liner components have passed the rigorous testing at the Underwriters Laboratories with best in class status and are UL Listed. So if you are looking for UL listed chimney liner sold directly to homeowners, then look no further than Rockford Chimney