Newsletter March-April 2011
July 19, 2023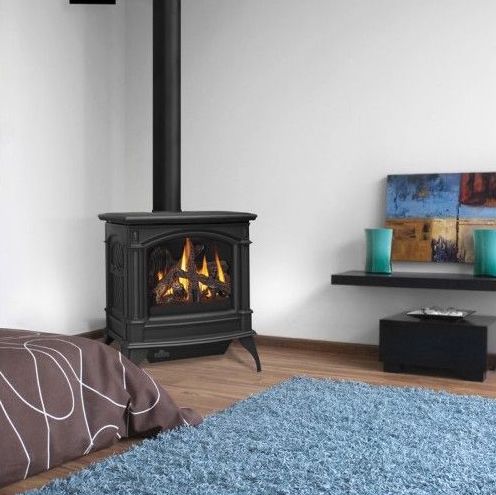 Gas Fireplaces Demystified
Different venting options make it possible to have a fireplace or fireplace insert or stove in your home, no matter what type of home you have. Gas appliances fall into a few general types, depending on how they receive air to feed the fire and how they vent combustion products (exhaust).
Natural Vent (B-Vent):
A natural vent fireplace takes air from the room it's in, and vents the products of combustion to the outside, through a singe pipe, via a chimney or B-vent system. The vent pipe must end above the roof line of the house. This kind of fireplace can have doors that open to access the flames. Natural vent fireplaces can be large and showy, but they tend not to be very efficient. Because combustion air is drawn from inside the house and then vented out with the exhaust, most of the heat tends to literally go up the chimney. And if you have a house "tight" house with windows well sealed, it can be hard for fresh air to reach the fire. There is also the chance that the fireplace will "compete" with fans or other appliances that use house air.
If you live in a warmish climate, or want a fireplace more for the ambience than the heat, this may be a good choice for you.
Pros:
Large fireplace with showy flames
Access to flames if desired
Cons:
Requires house air for operation
Inefficient for heating
Direct Vent:
A direct vent fireplace uses two vents, one to draw in air from outside the house, and a second one to vent the products of combustion back outside. The front of the fireplace is covered with a glass window, from which heat radiates into the room. In this way the air for the fireplace is prevented from mixing with the air in the house. This improves the efficiency, since warm air from the house is not pulled up the chimney. It also solves the problem of tight houses or other appliances interfering with the draft, since the direct vent appliance has its own air supply.
Direct-vent fireplaces are a good choice as a primary or backup heat source.
Pros:
Fireplace air is separate from house air - warm house air is not sucked up a chimney
Very efficient
Most models do not require electricity, so they can be used for backup heating
Cons:
Window prevents access to the fire
Best placed on outside wall
---
Vent Free:
Vent free fireplaces are exactly as the name implies: there is no venting at all. Air from the room is used for combustion, and combustion products are released back into the room air. The units are designed to burn so efficiently that combustion products are negligible. An oxygen depletion sensor is included.
When working properly, vent free fireplaces burn with 99% efficiency, so minimal combustion products are given off. Even so, they must be used in a room that is large enough to accommodate their oxygen needs, and fuel use must not exceed a maximum amount. Those with respiratory issues are advised to avoid them. If the unit fails to work properly or gets old and wears out, problems can occur.
In addition to the potential hazard of carbon monoxide, vent-free fireplaces have been reported to leave a sooty film on surfaces in the home. Concerns about the safety of vent free units has caused them to be banned in many countries (including Canada) and some US states. We cannot recommend them.
Pros:
Can be installed anywhere
Cons:
Can cause health hazards and illness
---
Keep these hints in mind when shopping for gas stoves, fireplaces and inserts for your home. Be aware that some models may be convertible from direct vent to natural vent.
If you have any questions, give us a call at 1-866-708-2446. We're happy to assist you.
DIY Center
(AKA 'The Rockford Files')
From video tutorials to product walkthroughs, we have a variety of DIY resources just for you! Click the button below to view our entire library.
Need Help?
We are here to answer all of your questions
OR

Our 316Ti flexible chimney liner and chimney liner components have passed the rigorous testing at the Underwriters Laboratories with best in class status and are UL Listed. So if you are looking for UL listed chimney liner sold directly to homeowners, then look no further than Rockford Chimney