Skype with a Certified Chimney Technician Launches Spring 2017
July 19, 2023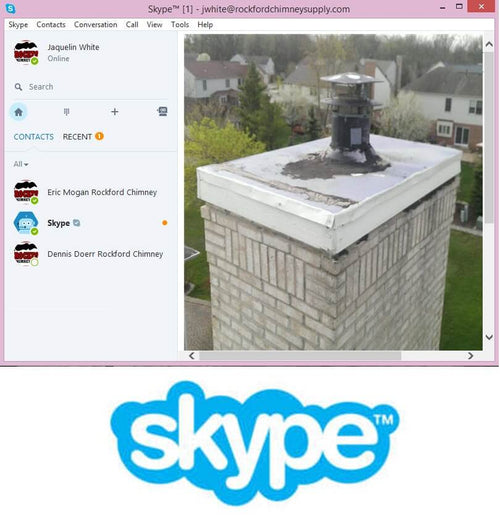 You're starting a new project but have questions before purchasing the items you need to complete the job. This is common when taking on a new project or renovation, which is why we have launched "Skype with a Certified Chimney Technician". Skyping with us in real-time puts us at your job site - what better way to help answer your questions!
You can find general instructions on how to use Skype on our Skype with a Certified Chimney Technician page. You will need a mobile device such as a tablet or cell phone and the ability to download & login to Skype. Making video calls on Skype is completely free, so a credit card should not be required.
Whether you have questions about your wood stove installation or are trying to figure out the best chimney cap for your flue, we would be glad to video chat with you on Skype! We strive to find new and improved communication channels to offer to our customers and all of us at Rockford Chimney Supply are very excited to have launched our newest Skype channel. We look forward to hearing from you soon!
DIY Center
(AKA 'The Rockford Files')
From video tutorials to product walkthroughs, we have a variety of DIY resources just for you! Click the button below to view our entire library.
Need Help?
We are here to answer all of your questions
OR

Our 316Ti flexible chimney liner and chimney liner components have passed the rigorous testing at the Underwriters Laboratories with best in class status and are UL Listed. So if you are looking for UL listed chimney liner sold directly to homeowners, then look no further than Rockford Chimney