Newsletter November-December 2010
July 19, 2023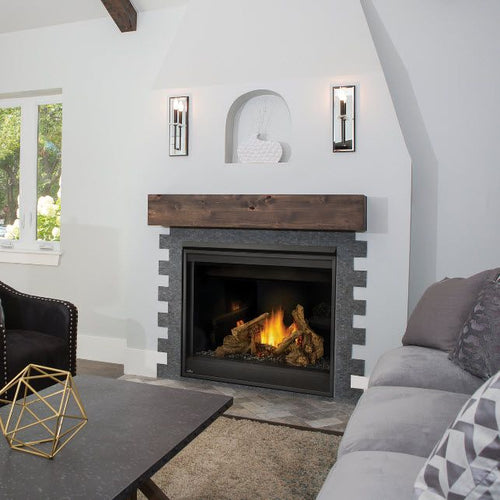 After a Chimney Fire...
Have you had a fire in your chimney? Any chimney fire is dangerous and can damage your home. But not all chimney fires are noisy and frightening. It is possible for a slow burning chimney fire to damage your flue without you even realizing it. A chimney inspection can spot the tell-tale signs of a hidden chimney fire and find the damage to the chimney or liner.
If you have had a chimney fire, it is likely that the chimney liner is damaged and needs replacing. If your chimney is lined with clay tiles, they can be expensive to replace. A stainless steel chimney liner is often a more economical alternative. If you install it yourself, you can save even more money. A properly installed and insulated chimney liner can reduce the likelihood of future chimney fires by helping to prevent creosote buildup in the flue.
Remember:
Do have your fireplace and chimney inspected annually.
Do burn only dry and well seasoned firewood in your wood stove or fireplace, or pellet fuel in your pellet stove.
Don't use a fireplace where a chimney fire has occurred without having an inspection and making any necessary repairs.
Don't start up an old fireplace that hasn't been used for a long time without having it inspected.
If you have any questions about chimney safety or repair, give us a call! We're happy to assist you.
---
Avoid the Temptation...
...to burn giftwrap, boxes, evergreen branches and trees, or trash in your fireplace or wood stove. These items are unsafe to burn and may produce dangerous sparks or toxic gasses.
---
Wood Pellets - An Alternative Home Heating Fuel
Wood pellets are a renewable energy source made from wood, usually sawdust. The wood is pounded in a hammer mill to a doughy consistency, and then extruded into pellets. The lignin in the wood, which was softened by the heat of extrusion, hardens to make firm pellets of consistent size. Pellets can also be made from agricultural by-products, forest waste, waste paper, and other renewable fuel sources.
Wood pellets are more convenient to buy and store than logs, and release more heat than logs when burned in a specially designed pellet stove. They come in two grades, standard and premium. There are differences in quality among the brands available, and it may be worthwhile to try a few different kinds and see which works best for you.
Pellet stoves can be free-standing units or inserts designed to fit into an existing fireplace opening. Most pellet stoves today are extremely efficient and have automatic ignition, automatic fuel feed and thermostatic regulation, and they can burn for many hours on a single fill-up. (The disadvantage is that electricity is required for their operation, so in the event of a power outage you would not be able to use them unless you have a generator or other backup power source available.) Pellet stoves produce very little dangerous creosote, and only a small amount of ash. They are also designed to be a very beautiful and elegant addition to your living space.
Things to keep in mind when considering a pellet stove:
Wood pellets are a renewable resource, although energy is expended in their manufacture and transport. They may or may not be cheaper than fossil fuels depending on changing economic factors.
You should set aside space to store at least fifty 40lb. bags of pellet fuel.
All pellets are not created equal; lower quality pellets do not burn as cleanly and can cause premature wear and tear on the stove's electronic parts.
Electricity is required for the blowers, fuel feed, auto ignition, etc., so in the event of a power outage a generator or other backup power source would be needed keep the stove going and possibly prevent smoke from entering the room.
You can feed the hopper about once a day during the heating season, and clean out the ash pan once a week or more depending on the quality of your pellets.
A pellet stove is much easier to use than a log-burning stove or fireplace, but it is also a more complex device with more parts that over time may require replacement.
DIY Center
(AKA 'The Rockford Files')
From video tutorials to product walkthroughs, we have a variety of DIY resources just for you! Click the button below to view our entire library.
Need Help?
We are here to answer all of your questions
OR

Our 316Ti flexible chimney liner and chimney liner components have passed the rigorous testing at the Underwriters Laboratories with best in class status and are UL Listed. So if you are looking for UL listed chimney liner sold directly to homeowners, then look no further than Rockford Chimney