ChimFex Fire Suppressant - Why Everyone Needs ChimFex on Hand
July 19, 2023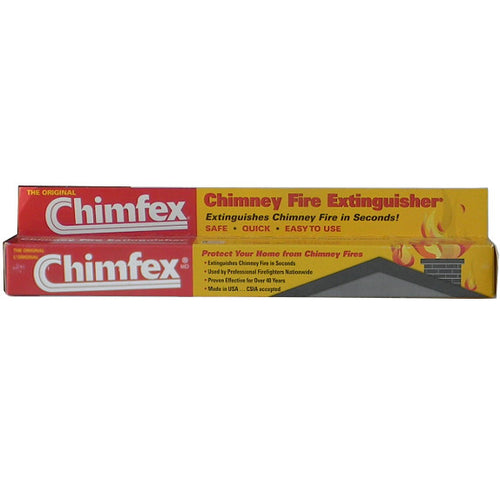 Whether you have a fireplace, wood stove, or fireplace insert, if you are burning with one of these, this might happen to you - a creosote fire.
What if you could put it out in just 22 Seconds by yourself? Without getting onto the roof to activate it, you could have the reassurance of placing the ChimFex extinguisher stick in the stove or fireplace next to the flame.
Chimfex is a Chimney Fire Extinguisher and it can extinguish chimney fires in seconds. Safe, quick, and easy to use. Great for use in fireplaces and wood-burning heaters.
ChimFex extinguishes chimney fires in an average of just 22 seconds
Allows the homeowner to react quickly and effectively to a chimney fire
The same top-quality product used by professional firefighters nationwide - proven effective for over 40 years
Great for use in fireplaces or wood burning stoves
ChimFex reduces chimney temperatures an average of 53% in 2 minutes
A fire suppressant is indispensable as the first line of defense for controlling fires that occur from creosote build-up in chimneys. Independent test results show it suppresses a chimney fire in an average of 22 SECONDS! A homeowner or professional firefighter can use ChimFex as a safe, fast, and easy-to-use tool to combat a chimney fire with no water damage.
Similar to a flare, you strike the end to light it, toss it in the wood stove or down the chimney, and it extinguishes the fire by using up the oxygen. It is recommended to keep 2-3 on hand since many times chimney fires can re-ignite. Use in wood stoves, fireplaces, or fireplace inserts.
DIY Center
(AKA 'The Rockford Files')
From video tutorials to product walkthroughs, we have a variety of DIY resources just for you! Click the button below to view our entire library.
Need Help?
We are here to answer all of your questions
OR

Our 316Ti flexible chimney liner and chimney liner components have passed the rigorous testing at the Underwriters Laboratories with best in class status and are UL Listed. So if you are looking for UL listed chimney liner sold directly to homeowners, then look no further than Rockford Chimney