How to Find a Reputable Chimney Sweep
July 19, 2023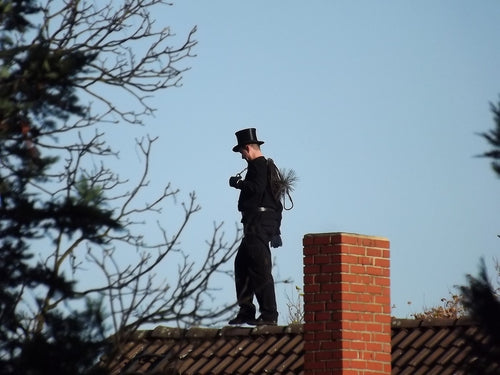 Have you found this article because you do not want to take on the chimney project yourself and would like to hire a chimney sweep? We're here to help guide you. If you don't already have a good chimney sweep, asking around in your community for a chimney sweep with a "good reputation" could be an option, but a better option, would be going to the CSIA website (Chimney Safety Institute of America), then enter your 5 digit zip code. This will automatically bring up all Certified Chimney Sweeps within a 50 mile radius of your location. Look for the ones that have the Certified Chimney Sweep Logo. These sweeps are trained, and must continue to take classes, to maintain their licenses.
These chimney professionals are more than just sweeps, they are service technicians for all your chimney and heating appliance needs. Chimney sweeps are skilled, knowledgeable and qualified to address and resolve, these types of issues:
Standard chimney and fireplace building practices
Codes and Standards
Clearances to combustibles
Identify chimney damages
Annual chimney inspections
Carbon monoxide intrusion testing
Animal removal
Smoke draft problems
Creosote smells
Moisture and water intrusion testing 
Water proofing
Chimney and Crown restoration
Chase Covers, Rain Caps, Dampers and Chimney Liner recommendations
If problems are found, your Sweep should be able to explain these issues thoroughly, and also offer you information and cost on how to fix them.
Before hiring anyone to sweep or repair you chimney, there are several important questions that you should ask:
Do you carry liability insurance to protect home and furnishings against accidents?
How long has the chimney sweeping company been in business?
Make sure they have their Identification/badge.
Will they protect and cover and vacuum the area they work in?
Does the company offer current references?
Will I receive a detailed verbal and written report of the discrepancies?
Hiring a professional, based on price, should not be your biggest factor when looking for a good chimney sweep. Higher prices may be an indication that the technician has all the proper equipment, training, insurance and experience required to do the job per industry standards, and by code. Keep in mind that at times the Sweep is required to go to the top of your chimney, so chimney height and roof pitch might be part of the cost determination. Questions that they may ask include how often do you burn wood and when was it last swept.
Some Chimneys Sweeps may give you a low price and then tell you that you have a problem right in the beginning and never even sweep the chimney. There may be issues, that need attention, but they should do the complete inspection and sweep, then discuss any issues that were discovered. A good chimney sweep will have an inspection camera that can video the inside of the chimney and is able to show you any of the discrepancies that were noted.
Remember all homes should have at least one Carbon Monoxide Detector, Fire Extinguisher, and ChimFex.
DIY Center
(AKA 'The Rockford Files')
From video tutorials to product walkthroughs, we have a variety of DIY resources just for you! Click the button below to view our entire library.
Need Help?
We are here to answer all of your questions
OR

Our 316Ti flexible chimney liner and chimney liner components have passed the rigorous testing at the Underwriters Laboratories with best in class status and are UL Listed. So if you are looking for UL listed chimney liner sold directly to homeowners, then look no further than Rockford Chimney