Custom Oval to Round Single Wall Black Stove Pipe Connector
Product Images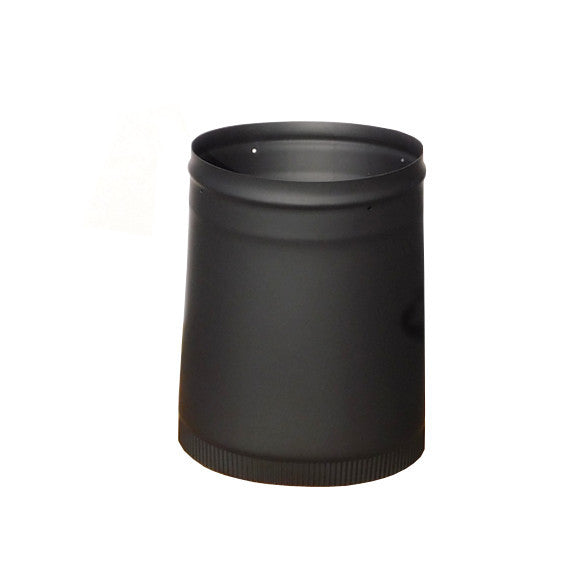 Custom Oval to Round Single Wall Black Stove Pipe Connector
Description:
Enter your dimensions and we will make your oval to round connector in our 22 gauge mild steel, laser welded...
Product Details:
Does your wood stove have an oval exhaust outlet but you need to connect it to round single wall black stove pipe? This scenario isn't all that uncommon, so you are in luck! Let us make an oval to round connector for you in our 22 gauge mild steel. Our single wall stove pipe features an 18" clearance combustibles, laser welded seams, and is one of the thickest stove pipes on the market. This product is made custom per order and is non-returnable. Contact us with any questions before your order, happy to help.
Note: Typically for wood burning the male ends should be pointing down (back into the stove for creosote drainage). Here is more information on that topic.
How to Order
1. Choose the appropriate diameter and end type for the round end. The end type refers to a male (crimped) or female (expanded) end. This end is most commonly female for wood burning (so the stove pipe will go INTO this end).
2. Enter the oval measurements needed for the oval length, width, and circumference.
The oval end is most commonly male (to go INTO the exhaust outlet). If you choose a male end type, be sure to measure the INSIDE oval length, width, and circumference. If you choose a female end type, be sure to measure the OUTSIDE oval length, width, and circumference.
3. Choose the nearest oval shape - is your oval more of a football shape or closer to a racetrack oval with rounder edges?
4. Feel free to send us photos of the exhaust outlet, this is optional.
Frequently Bought Together:
DIY Center
(AKA 'The Rockford Files')
From video tutorials to product walkthroughs, we have a variety of DIY resources just for you! Click the button below to view our entire library.
Need Help?
We are here to answer all of your questions
OR

Our 316Ti flexible chimney liner and chimney liner components have passed the rigorous testing at the Underwriters Laboratories with best in class status and are UL Listed. So if you are looking for UL listed chimney liner sold directly to homeowners, then look no further than Rockford Chimney