Osburn Matrix 1900 Wood Insert
Osburn Matrix 1900 Wood Insert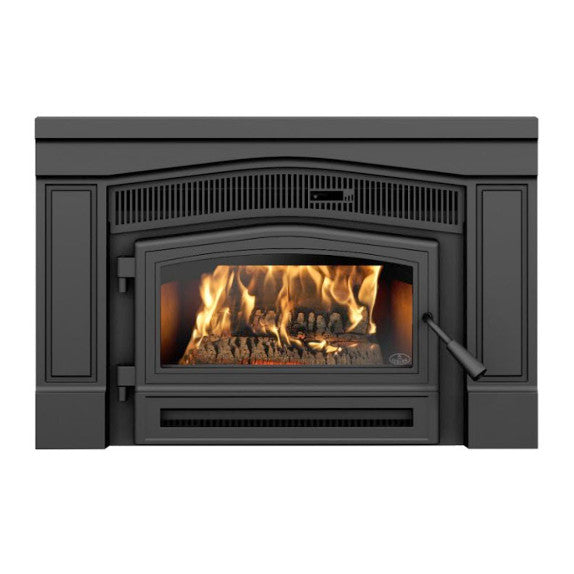 Osburn Matrix 1900 Wood Insert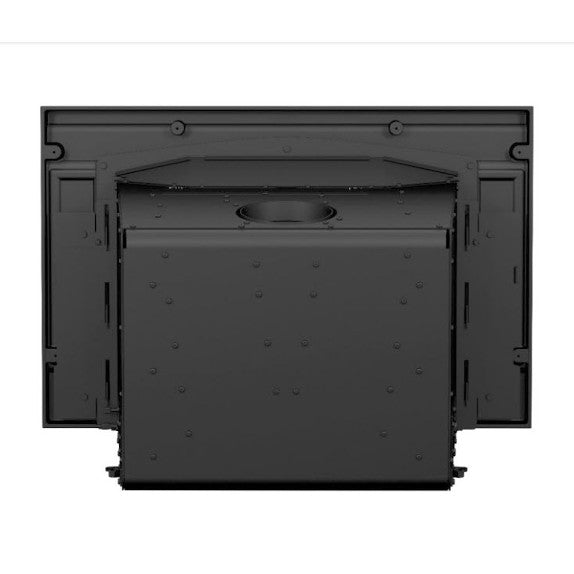 Osburn Matrix 1900 Wood Insert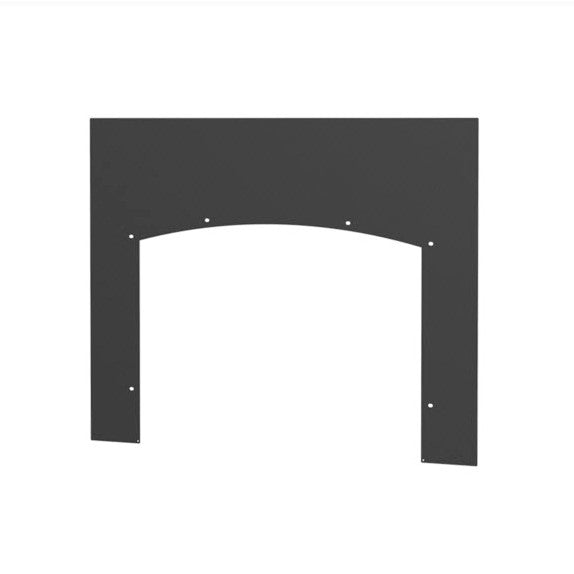 Osburn Matrix 1900 Wood Insert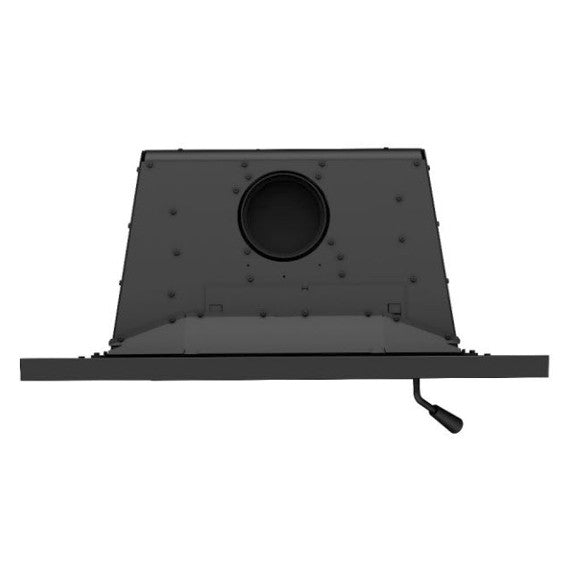 Osburn Matrix 1900 Wood Insert
Description:
Approx. Heating Area: 250 - 1,500 sq. ft.Max Output: 45,000 BTU/h
Product Details:
The Osburn Matrix 1900 Wood Burning Insert is a combination of elegance and efficiency. The cast iron surround has a beautiful pattern with upper louvers and side columns that elegantly frame the large viewing door. The surround will cover any fireplace less than 23.875" tall by 36" wide. A 33" tall by 44" cuttable flashing is available for large fireplaces. The large glass surface allows you to enjoy the time spent next to the fire. The flush mount blower is hidden from within the insert accentuating the details of the fireplace.
The Osburn Matrix 1900 insert is a smaller more compact version of the Matrix series and is able to be installed in smaller hearths. The minimum fireplace opening for the Matrix 1900 insert is 19" tall x 25" width x 15.5" depth. The sides and the top are tapered to easily slide in a smaller fireplace. The 1.03 cubic foot fireplace box can handle up to a 17" log. However, a 16" log is recommended for the Matrix 1900 and has a max burn time of up to 7 hours, producing up to 45,000 BTUs with a heating area of up to 1,200 square feet.
The Osburn Matrix 1900 wood stove is EPA rated and has a HHV rating of 75% which qualifies for the wood and pellet stove tax credit through the end of 2023. Through the end of 2022 you can receive up to a 26% tax credit and through the end of 2023 you can receive up to a 22% tax credit. The tax credit also qualifies for the installation and parts required, such as a chimney liner. This is one of the largest tax credits the wood and pellet stove industry has ever had. If you are looking to update your old drafty fireplace, consider the Osburn Matrix 1900 wood burning insert.
Click here to view more information about the tax credit
Specifications & Manual
Osburn Matrix 1900 Wood Insert Owners Manual
Osburn Matrix 1900 Wood Insert Installation and Operation Manual
Osburn Matrix 1900 Wood Insert Dimensions
Osburn Matrix 1900 Wood Insert Specifications
Combustion technology
Non-catalytic
High-efficiency certified appliance
Yes, EPA 2020 approved
Maximum log length
17"
Log positioning
Loading over width
Chimney diameter
6"
Flue outlet diameter
6"
Type of chimney
CAN/ULC S629, UL 103 HT (2100 °F)
Minimum chimney height (feet)
12'
Baffle type
C-Cast or equivalent
Approved for a mobile home installation
No
Shipping Weight
332 lb (151 kg)
Door type
Single, glass with cast iron frame
Glass type
Ceramic glass
Glass surface – dimensions (Width X Height)
18" X 8 1/8"
Glass air-wash system
Yes
Premium quality blower included (CFM)
90
Overall dimension (Height)
23 7/8"
Overall dimension (Width)
36"
Overall dimension (Depth)
21"
Door opening – dimension (Height)
7 7/8"
Door opening - dimension (Width)
18 1/4"
Firebox – dimension (Height)
8 7/8"
Firebox – dimension (Width)
16 3/4"
Firebox – dimension (Depth)
12 3/8"
Moulded refractory bricks>/td>
Yes
Stainless-steel secondary-air system improving gas combustion
Yes
Steel thickness – body
3/16"
Steel thickness – top
3/16"
Fireplace opening – minimum (Height)
19"
Fireplace opening – minimum (Width)
25"
Fireplace opening – minimum (Depth)
15 1/2"
USA standard (emissions)
EPA
Canadian Standard (emissions)>/td>
CSA B415.1-10
USA standard (safety)
UL 1482, UL 737
Canadian standard (safety)
ULC S628
Tested and listed as per applicable standards
By an accredited laboratory (CAN/USA)
Warranty
Limited lifetime
Optional Accessories:
32" X 44" Cuttable Faceplate (18 GA)
The Osburn Matrix 1900 fireplace insert has one additional option for the Faceplate size. The 32" x 44" Cuttable Faceplate is available for fireplaces that are larger than 23.875" x 36". The Cuttable Faceplate easily attaches to the back of the included Faceplate to cover any gaps on large fireplaces. You can cut the top edge and sides of the Cuttable Faceplate to contour an arched fireplace or to minimize the amount of flashing you will see. The Cuttable 32" x 44" Faceplate is the perfect solution for larger fireplaces.
5"Fresh Air Intake Kit
The 5" Fresh Air Oval Kit is required if you plan on connecting a fresh air intake pipe. The oval adapter kit comes with the oval adapter, 2 clamps and the fresh air intake register hood. The oval adapter is intended for the 5" fresh air intake pipe. You will have to manually ovalize the flexible intake pipe to make the connection to the adapter. The oval adapter can be positioned on either side of the fireplace insert.
Rigid Firescreen
The Rigid Firescreen allows you to burn wood in the wood insert with the door open just like an old-time fireplace. Hear the crackle of the wood, watch the flames dance around and relax by the fire on a cold winter's night. The Rigid Firescreen is easy to install and easy to remove when you are ready to load more wood. The insert should not be burning with the door open without the Firescreen.
Optional Chimney Liner Kit
Rock-Flex 316Ti stainless steel chimney liner kits are UL listed and the perfect choice to install for your new wood burning insert. Each kit includes the 316Ti Flexible Chimney Liner, Vertical Appliance Connector, 13 x 13 in. Premium Top Plate, and Round Rain Cap.
Frequently Bought Together:
DIY Center
(AKA 'The Rockford Files')
From video tutorials to product walkthroughs, we have a variety of DIY resources just for you! Click the button below to view our entire library.
Need Help?
We are here to answer all of your questions
OR

Our 316Ti flexible chimney liner and chimney liner components have passed the rigorous testing at the Underwriters Laboratories with best in class status and are UL Listed. So if you are looking for UL listed chimney liner sold directly to homeowners, then look no further than Rockford Chimney